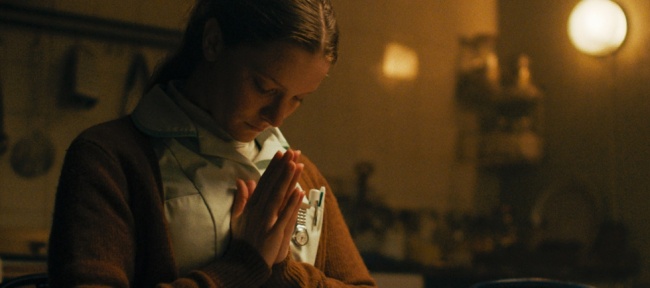 Sony Pictures has released the Spanish trailer and poster for 'Saint Maud', a promising horror film endorsed by A24, the always interesting company that in the United States has distributed films such as' The Witch', 'Green Room', 'Under the Skin', 'Hereditary', 'The sacrifice of a sacred deer' , 'It comes at night', 'Midsommar' or 'The lighthouse'.
Morfydd Clark, the future Galadriel from the series 'The Lord of the Rings' from Amazon, leads the cast of this film that will be released in Spanish theaters on Christmas Day with Jennifer Ehle, Lilly Frazer, Lily Knight, Marcus Hutton, Turlough Convery and Rosie Sansom.
All of them under the command of the newcomer Rose Glass, also the scriptwriter of this story about Maud, a young and devoted nurse who arrives at Amanda's house again, a famous dancer who is prostrate in her isolated house due to illness.
At first, Amanda is intrigued by this young nun who manages to distract her from her poor health. Maud, in turn, is haunted by her new patient. But Maud is not all that she seems. She lives tormented by a violent secret from her past and by moments of ecstasy that she believes she receives directly from God. Maud becomes convinced that she has been sent to Amanda not simply as a nurse, but to fulfill a divine purpose.
As she loses control over her connection to reality, Maud's care turns into a lethal mission to save Amanda's soul, by all means …
Click here to see it on YouTube. This and other trilers you can find on our Dailymotion channel,
or in the section Movie trailers and videos of the web.