While you certainly might see Jessica Springsteen's last name and think "Born in the USA" thanks to her * iconic * dad, Bruce Springsteen, don't get it twisted: This 29-year-old is making waves in her own right. Named to the USA equestrian team in July, Jessica is competing in the 2020 Tokyo Olympics starting August 3.
Jessica is v much becoming America's new favorite horseback rider, so here's some ~ much-needed info ~ on her before everyone and their mom starts to stan.
Franco Origlia.
This is Jessica's first Olympics.
After suiting up as an alternate in the 2012 London Games, Jessica wasn't able to make the Olympics four years later in Rio because her horse suffered leg problems, according to Sports Illustrated. Her Olympic debut in Tokyo makes Jessica just one of four riders to compete on the team, * and * she's the youngest rider in the group (brag). Her teamies are all vets to the Games and in their 40s and 50s. Team USA member Laura Kraut, who also happens to be Jessica's biggest inspo, made her Olympic debut when Jessica was just 1 year old, reports ESPN. So, to be clear: Jessica is a big freakin 'deal. Being teammates with your equestrian idol? What, like it's hard? … Yes, I saw a lot.
It's been a dream since Jessica was a kid.
"[Competing in the Olympics is] the biggest honor, "Jessica told People, which noted that the accomplishment was a dream of Jessica's since she was a child on a pony. "Throughout my career, representing my country has been my goal, and so to be doing so at the Olympics, it's a huge honor. I couldn't be more excited. "
She's been riding since she was 5 years old.
As if competing in the Olympics wasn't proof enough, Jessica is v much true to this equestrian thing, with the experience and accolades to match. Let's count the receipts, shall we? Currently ranked 14th in the world in her discipline. Check. Multiple recent first place finishes in top competitions. Check. Loads of prize money won in said top competitions on international stages. Check, check, and check. Sorry not sorry, but Daddy didn't have much to do with all that * shrugs *.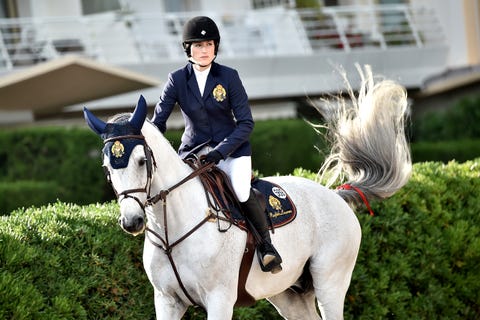 Jacopo Raule.
Show jumping is totally her thing.
Horses soaring through the air with beauty and pure athleticism? Say less. You know it, you've seen it, but you probs just didn't know the ~ official ~ name for it. There are three divisions of equestrian at the Olympic level: dressage, eventing, and jumping, which is notably the most popular according to the US Equestrian Federation (USEF), aka the group that governs the sport.
Think of show jumping as the equestrian equivalent to track and field's pole vaulting or high jump. Show jumping is distinct because there really are * two athletes * competing: the horse and the rider. The pair navigate an obstacle course of various heights and widths — all while being timed — and this "tests a horse's athleticism, agility, and tractability while simultaneously testing a rider's precision, accuracy, and responsiveness," according to the USEF. "Perhaps most importantly, jumping tests the partnership between horse and rider."
Speaking of partnership, Jessica and her horse are * tight *.
"The partnership you have with your horse is everything, and with Don, I have a really, really strong partnership," Jessica told People. "Sometimes you get a horse and it can take you a long time to get to know each other, but with him, we came together quickly and we've been able to build on that ever since. We definitely have a lot of trust. I feel like I know him so well now, he knows me so well, and there isn't any other horse that I want to be going into the Games on. He's brave, he's reliable, he's competitive. "
Did we mention her horse has an awesome name?
Jessica's horse, a 12-year-old Belgian Warmblood stallion, goes by Don Juan Van de Donkhoeve. Fancy, right? But she just calls him Don.
This content is imported from Instagram. You may be able to find the same content in another format, or you may be able to find more information, at their web site.
She doesn't want to be in her dad's shadow.
While the family funds certainly helped Jessica keep up this pricey sport, that's pretty much where holding on to the family name ends for her. "She has said early on that she didn't want to be known as Bruce Springsteen's daughter alone," said 1984 gold medalist Melanie Smith Taylor to the New York Post. "She wanted to forge her own path. She's really doing that. She is very much at the elite level of the sport because of her performance. " Period!
Her parents are celebrating her debut from home.
Spectators aren't allowed at this year's Games, so Jessica's parents will be watching their girl from home at a viewing party, according to People. "They've been so supportive; since I was little on ponies, they've been, like, my biggest supporters, "Jessica told the outlet. "I'm constantly on the phone with them, my friends, every day. Everyone is so excited. "
Christen A. Johnson As the associate news editor for Cosmopolitan, Christen covers all the things around news, pop culture, and entertainment.
This content is created and maintained by a third party, and imported onto this page to help users provide their email addresses. You may be able to find more information about this and similar content at piano.io