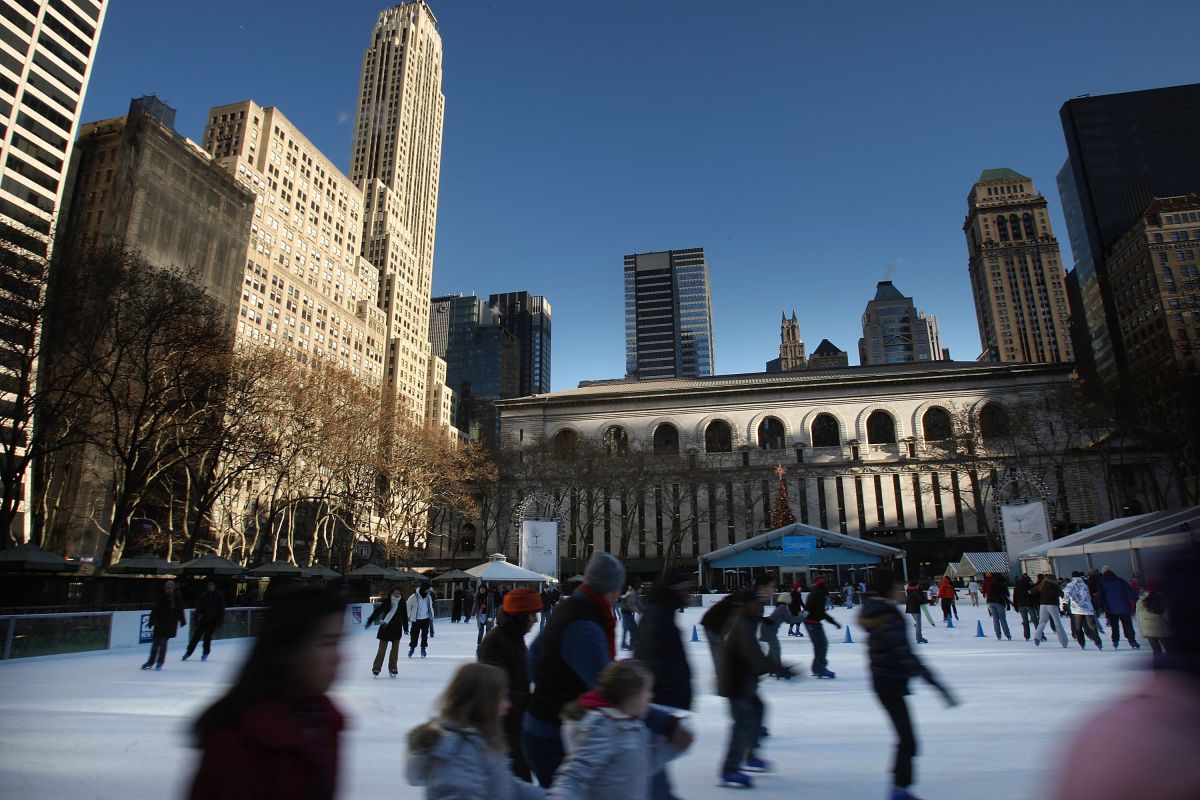 Bryant Park, Manhattan
Photo: Spencer Platt / .
In the cold, options for outdoor sports and recreation are limited. One of the most popular is ice skating, both practicing and observing it.
You don't need to be an expert: classes are available and walkers that make it easy to balance, in child and adult sizes. This year there are already several active tracks in NYC, with security protocols to prevent contagion, including reduced capacity (before visiting, check the schedules, reservation system and if there are options to store your shoes):
It is the only outdoor ice skating rink free from the city, you just have to bring your skates or rent them there. Right in the center, it is surrounded by skyscrapers, trees and a Christmas market with light food.
Offers visitors of all skill levels a place to take lessons or skate on their own while enjoying the view of the hudson river and the urban landscape of skyscrapers, the Statue of Liberty in the distance and the New Jersey shore.
Small, but very popular, nestled in the "more Christmas" area of ​​NYC: 5th Avenue with 49th and 50th streets, where the traditionally most photographed tree stands, in addition to the Saks windows.
Definitely the best known, it has become a classic of cinema and international tourism. For this reason, it tends to get congested. It is accessed more directly from 59th street, through 5th or 6th avenues. And in general, for any entrance to the southeast of Central Park, hotel zone, green areas, horses, shops and classic buildings.
It is the least touristy, ideal for feeling like a traditional New Yorker. You enter from 110th St & Lenox Avenue, and generally from any access to the northwest area of ​​Central Park, close to Harlem and Columbia University.
Synthetic and ecological skating rink in the rooftop from The William Vale, in Williamsburg, with incredible views of the NYC skyline. Visitors will also be able to warm up in small private and socially distanced houses. The exact opening date this year has not been confirmed.
Under roof, in Flushing Meadows Corona Park: Avery Avenue and 131 St. They also offer classes in figure skating and hockey.
Here you can consult More NYC Parks Managed Ice Rink Options in Manhattan, Brooklyn, Staten Island and Queens.