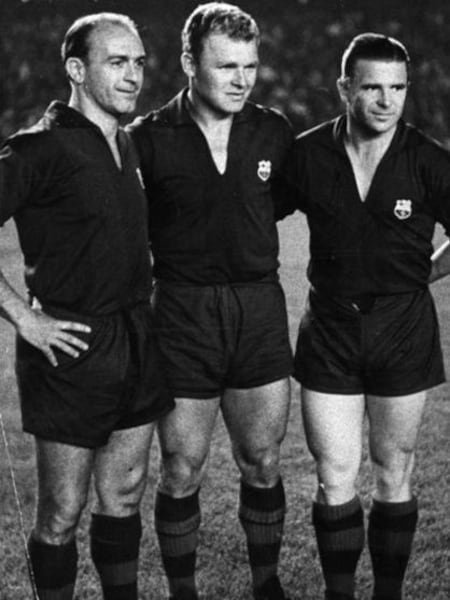 Di Stéfano, Kubala and Puskas, with the Barça shirt at the farewell to the second as Barça player in 1961.
Today no one remembers him, but Barça offered Kubala to Atlético de Madrid in the summer of 1958. He needed money and was fed up with him.
The magazine Vida Deportiva, published in Barcelona, ​​reported this in its last issue in July 1958. Barça had opened the Camp Nou that year, which created a huge debt. He had not won the League since 1953, he planned to sign Helenio Herrera for the bench and at Atlético Fernando Daucik, married to the player's sister, had entered as coach. Daucik and Kubala had arrived together at Barça in 1950 and the Five Cups team was founded on them.
I learned about it from a friend from Granada, who is also a collector of memories, who sent me a clipping of Ideal de Granada from August 1, 1958, which collected the information from Vida Deportiva letter by letter. It was titled like this: "Kubala has not signed for Atlético de Madrid yet, because he wants Barcelona to publicly dispense with him." A summary followed: "He has a contract in force for three years, but if they want his transfer, they must do so."
To questions from the journalist, Kubala says: "Some managers, undoubtedly brought by love to the club and thinking about very current problems of the same, have started conversations with Atlético about the possibility of my transfer." The expression "current problems" is an obvious allusion to debt. Regarding the conditions that Atlético offers him, he says that "they are optimal." But he clarifies: "I will never leave Barcelona on my own initiative. Now, if the club considers that my services do not interest them, they can only say so. (…) I will go, but I want them to say it in a way that will be evident to everyone (…) I don't want to go; I'll go if they kick me out. "
Then he protests of love to the club and complains about the managers who doubt his commitment and appeals to the members: "I am sure that the members of Barcelona would not be in favor of my transfer. And, I don't know … but aren't the members really the true owners of the club? "
The interview reflects the tension between the player and the board, which in March had managed to separate him from the team with a very harsh public note. It happened five days before the end of the League, when Barça lost 2-1 in Sarriá, which set them apart from the head permanently. That same night Kubala, who although he never missed training was very nocturnal, had a fight with sailors from the Sixth Fleet, two of whom ended up in the water.
Jump to Espanyol
He did not play again in the remainder of the League, nor did he play the final of the Fairs Cup, won by the club against the London National Team. He did not return until the Cup, in which the team lost to Athletic in the semifinals.
The operation did not work with Atlético. It was probably a conspiracy between Daucik and some managers unhappy with the player. But Atlético had invested heavily in Vavá that summer, the nine world champion in Sweden with Brazil, and had joined the young Portuguese insider Mendonça, from Dépor. There was no roll left for such an expensive operation.
"I don't want to leave, I'll leave if they kick me out," the player warned the Barça board
But Kubala was heading for a bad end at Barça. That summer HH arrived, which little by little was relegating him. Little by little he stopped using him outside, because he was slow and not a fighter, although he did play at home, where the public demanded him. That created a confrontation between the Kubalistas, the nostalgic people of the Five Cups, and the suaristas, fans of the young Luis Suárez, whom the former considered a protégé of the coach. After winning two Leagues, a Cup and a Fairs one, Helenio Herrera went to Inter in 60-61. Kubala completed his last year and said goodbye with a beautiful tribute in which Di Stéfano and Puskas played for Barça against Stade Reims. He was 34 years old. He became a trainer of values ​​in the club's quarry. In the middle of the season, the coach, Miró, fell and he replaced him. He continued at 62-63, but things were not going well and he offered to reappear and act as a coach-player, in the style of César, who in that double role had raised Elche from Third to First in two jumps. They didn't let him, he got upset and signed for Espanyol, which upset his supporters.
It was a bad ending for a historic club hero. A time that has come to my memory now that Messi's end seems close, at least in his wish. And now that some athletic people dream of attracting him through the lure of his intimate Luis Suárez.