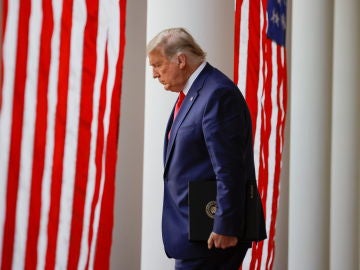 Published:

Monday, November 16, 2020 09:07

Donald Trump gives no truce and he continues to insist on his victory in the presidential elections, despite the fact that the Democratic candidate is already president-elect of the United States with 306 electoral votes in favor.
In his Twitter account he has once again insisted on the same idea that he has been defending since the first election day. "I won these elections," he wrote in a publication. A message that Twitter has already warned about with the message "official sources indicate that the result of these elections is different."
This new publication comes just one day after the president until now would win Joe Biden, although emphasizing that it was due that "the elections were rigged". "There were no supervisors or observers," he wrote in a post in which he further accused Dominion, "owned by the radical left," of making a "misleading" count.
Hours later, he again insisted that the Democrat it has only won "in the eyes of the 'fake news' media". "I do not concede anything. We have a long way to go because it was a rigged election," he said in the same tweet.
Despite these statements, so far no judge or court has found evidence that point to an alleged electoral fraud. In addition, several governors and members of the Republican party do not support the accusations of their president and ask that the electoral result be recognized.