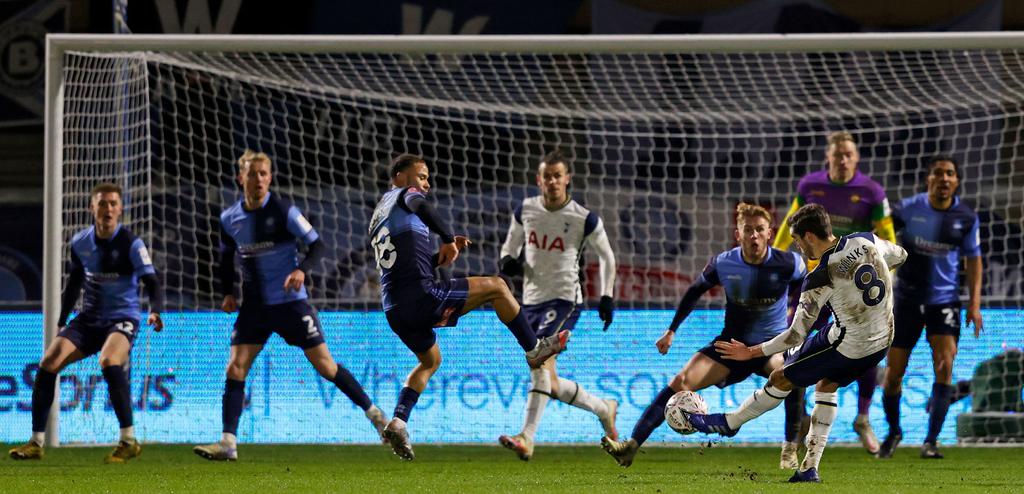 After failing a lot of occasions, with undoubted merits for having resolved the match earlier, Tottenham found the prize for their offense in the fourth round of the English Cup against Wycombe with Harry Winks' 1-2 in the 86th minute , the 1-3 and the 1-4 of Tanguy Ndombele and the classification to the second round, in which he will play with Everton.
Until then, José Mourinho's team did not complete the comeback that Gareth Bale had started on the brink of halftime. With his unchecking, he was the most intrepid to reach the sensational pass from the Brazilian Lucas to beat the goalkeeper and cause the 1-1, when the timer was already running through the second minute of added time in the first half.
Wonderful, Winksy! ✨ # THFC ⚪️ #COYS pic.twitter.com/yS6GzuoBtF

– Tottenham Hotspur (@SpursOfficial) January 25, 2021
It was his fourth time. Before he had missed three. Of different types and at different distances. The first, very clear, head to the side of the goal; the second, with a left foot from outside the area; and the third in an action that culminated with a right out of the frame. None of the three took the path of the goal.
But his goal, really, was a relief for Tottenham and for Mourinho. Not only was he losing until that moment, by Onyedinma 1-0 due to a bad clearance from his defense, but he felt the rival frame as an insurmountable wall whatever he did. Its effectiveness was minimal. He even hit a crossbar and post until Bale's 1-1.
Later, on the verge of playing time, Mourinho turned to Harry Kane. Then to Son Heung Min and Tanguy Ndombele. His team had many more chances, frustrated again before an incessant fight with the goal that ended with Harry Winks' 1-2. Then came the win. All the punch he missed in 86 minutes was later, with Ndombele's 1-3 and 1-4. In the second round, Everton awaits.
👍 I like it 😍 I love it 🤣 funny 😮 surprised 😡 angry 😢 sad