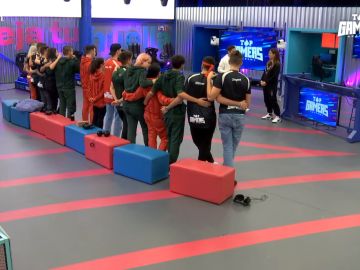 We are in a moment of great tension at the Academy where each player has to give everything of himself to avoid falling into the nomination and running the risk of being nominated. But the tournament has already been held and we already know the nominees. Do you want to know who they are? Then we review this sSaturday, November 14 at the Academy.
Outdoor Fitness Class
Sara is already in the Academy and he is looking forward to making this a great day for our applicants. For this reason, he has not hesitated to take them out of those four walls to repeat, once again, his outdoor class. Of course, a decision made respecting all security measures and with total control.
But for our aspirants it's been like being in paradise, especially since they have seen each other outside the Academy for almost an hour. Something that, since they have entered, has been limited to just one time. Therefore, they have not hesitated to make the most of the class and enjoy the moment.
ESports class with Anouc and a great guest
It is time for Anouc's class with the applicants. Of course, this time she does not come alone, but to help her explain and move on with the eSport breakthrough, we met Noa, a professional League of Legends commentator and who has not hesitated to show the important role of women in eSports.
In fact, one of the aspects they have mentioned is that there was a time when they refused to be able to go to an interview to avoid the headlines with the prominence of women in esports. But what we do see is a breakthrough and that of course going to move on.
Byviruzz Video Call
Previously dedicated to the Clash Royale, ByViruZz came to jump for several styles of mobile game, although currently it has already made the great leap to keyboard and mouse. But what he has not doubted is when it comes to being able to guide them a little and advise them on Clash Royale improvements, where he has shown great knowledge.
Of course, this is one of the best content creators to explain the great change YouTube has undergone. since he started to date. And, as he has shown them, he has been very present in the social network, to the point of being considered by some of the Academy as one of the best.
Call of Rubius and Mangel
The moment of truth arrives with Rubius and Mangel on a special call for the Academy hopefuls. There is very little left for him great tournament and both the Team Owner as the Manager they want to encourage applicants. They know that things are complicated right now, but they want to ensure that they have a good time and, above all, that they seek to reach the top.
So, with some humor in having their call together, both do not hesitate when it comes to guiding the applicants. They know that they are in the final stretch and it is time for them to stay as long as possible. Especially since it's going to be really complicated when they have to make the decision to save someone.
It's time for the competition: Final tournament of the week
Now, after talking with Rubius and Mangel, it is time for the applicants to compete. For it, this time they will have to give it their all in Fortnite, Gran Turismo and Clash Royale. The competition is more than assured since no one wants to lose their position in the Academy, but only those who get the most points can be saved from the nomination.
Many rounds ahead, a lot of tension in the air and some clear winners. But, of course, we must remember that the Fall Guys and content creators points affect when it comes to being able to place the applicants higher or a little lower. So they must be careful when competing and not lose position.
Rankings update and latest streams
Now it is time to know how the teams have been this week and, of course, who are the nominees this time. In this way we have before us a great winner of the week and it is that, for the first time in our contest, finally the Calvalleros get the first place, closely followed by the Lemon Sharks and with the Mole-mice in last place. Of course, as the winner of the creation of contents we have Irene Fields, who has earned his well-deserved 30 points. Although that, sadly, does not save her from the nominations.
In Team Calvalleros we have Pepelu, Toni Cortés and Oliv Liv in nominations. On the other hand, in Team Lemon Sharks there are Irene Fields, Zunk and ElSkipler. In the Mole-mice are Alba Vicius, RubySky9 and Onlycopycat. Who will be saved this week? We will know very soon. Meanwhile we say goodbye with the streams of ElSkipler, Mapxmen and Eka.