Your kitchen requires a set of quintessential cookware, for each brings with it unique qualities and benefits to make cooking convenient and enjoyable. For example, a kadai might not be useful where a saucepan would be and vice versa. Having said that, missing out on cookware, like the humble saucepan, is a story many recite, especially from the days of setting up their very first kitchen, and when they decide to buy one, they are torn between the numerous options available in the market. Some might remain unconvinced for they might not be well versed with its uses. If you consider yourself one of them, this blog will transform your thoughts, but before we address why your kitchen needs saucepans, take a look at what the cookware is.
What Is a Saucepan?
A saucepan is a deep pan with a flat base and a handle to lift and manoeuvre it easily. It may or may not have a spout and a lid, and can sometimes be considered as a modified version of the saucepot or the pan.
Uses of Saucepan
Due to its shape and design, the saucepan is extensively used for cooking liquids. Thus, you'll find it useful for boiling, stewing, and simmering; but, its flat base also comes in handy for sautéing, braising, etc.. Here are the dishes it can be used for:
Soups, Gravies, Sauces, and Stews – Due to its compact design, saucepans provide for a great way to boil, simmer, and reduce soups, gravies, and sauces while maintaining the nutrient value and enhancing the flavours. Its deep sides and flat base keep the cooking area contained and aid simmering the liquid efficiently without burning it till you get the desired consistency.
Boiling/Steaming Foods – Saucepans are great to boil foods, such as rice, vegetables, etc. A large size can also enable steaming.
Making Beverages – Since its design makes it apt for boiling, a saucepan is a must-have for boiling milk and making all your hot beverages, from tea, coffee to turmeric latte.
Confit – Your love for confit recipes can be actualised with a good saucepan in your own kitchen.
Baking – Oven-safe saucepans are apt for baked recipes as they tolerate high temperatures while ensuring thorough cooking.
Frying – Small quantities of fried treats can be made easily in a saucepan.
These cooking techniques may require an additional layer of care to improve your saucepan's durability. Before that, we want to quickly address the type of saucepan you must buy.
We recommend using a triply stainless steel saucepan as it is omni heat, prevents hotspots when heated, and reduces the chances of burning and sticking of food, thus easing its cleaning. The material also makes it compatible to use with most cooktops, including induction tops. Another quick tip here is to get a saucepan that has a sturdy, heat-resistant handle to help manage the cookware easily.
Now, let's take a look at how you can maintain your saucepan longer.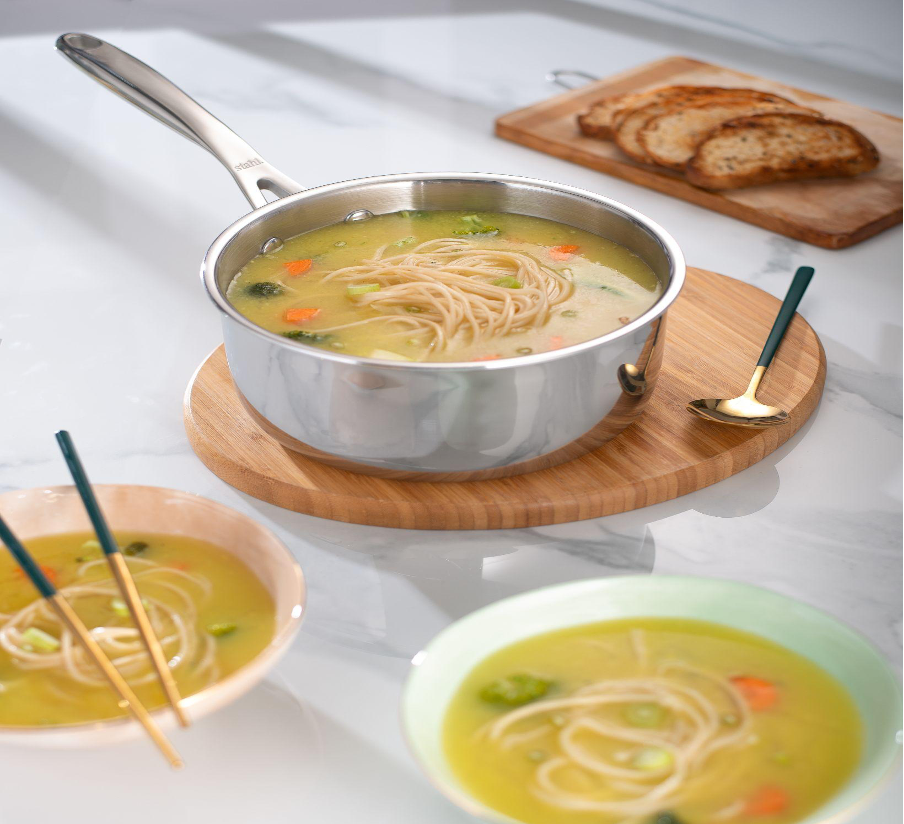 Care Tips for Saucepans
These tips will improve your pan's longevity and also maintain its performance and appearance.
Cool It Before Cleaning
Allow your saucepan to cool naturally before washing it in cold water to maintain its shape. A sudden temperature change could warp the metal and affect its usability in the long run.
Wash With Mild Dishwashing Soap and Soft Sponge
Now, if you go for a quality triply saucepan, you can clean it easily with a mild soap and soft sponge or put it in the dishwasher.. Therefore, the type of saucepan you choose is very important.
Avoid Dry Heating
Dry heating on high temperature for longer duration can lead to browning or discoloration of your cookware. To prevent this, heat the saucepan on low flame, and as much as possible, avoid dry heating it any further.
SeasonStainless Steel Saucepan
Make your stainless steel pan non-stick by seasoning it quickly before cooking. This will prevent the chances of sticking or burning of food, and thus eases the cleaning and maintenance process.
Use Wooden Spatulas
To keep your saucepan looking pristine, opt for wooden spoons over metal spatulas. Wooden spoons are gentle on the cooking surface, preventing scratches, while still effectively serving their purpose. This simple switch will help preserve your cookware's appearance and longevity, ensuring it stays in great shape even with daily use.
Transfer Cooked Food to Other Storage Containers
To prolong your saucepan's life, transfer the food to a container after cooking to prevent prolonged contact with the metal. Properly clean, dry, and store it without abrasive materials to maintain both its appearance and performance.
Getting the right saucepans for your kitchen, trust us, will enhance your culinary experience. Choose a couple of saucepans from the best available around you, and equip your kitchen and yourself to create magical recipes every day.