If in one place the passion they feel for Diego Armando Maradona in Argentina can be compared, that place is Naples. Pelusa shone at the Italian club, with which he won two league championships and left a thousand plays to remember. Diego is almost a religion there, so the tribute in the first Naples game after his death had to be up to par. And it was. All the details were taken care of so that the farewell to Diego in San Paolo was as emotional as possible.
The first thing Napoli decided was to design a commemorative shirt for the match. Thus, the local players wore a shirt with the colors of Argentina against Roma, a country that gave birth to Maradona and with which he won the World Cup in Mexico '86. Their captain, Lorenzo Insigne, remembered Diego putting flowers on him before the match and wearing a shirt with his name in the initial greeting.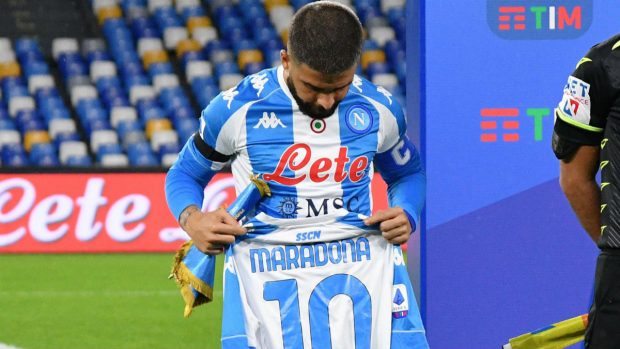 In addition to the commemorative shirt, the stadium was filled with banners and flags in memory of Maradona: «Your death was a blow to the chest, a pain in the heart. Naples promises you eternal love'You could read. But the most special moment was lived in minute 10: after observing a minute of silence before the opening whistle, In that minute 10 the game stopped and everyone present gave a heartfelt applause to the recently deceased. Something that seems to continue once San Paolo fans return.
Reverence and admiration.
Starting today, San Paolo will applaud in the 10th minute of each match in homage to Maradona. #ADIOSMaradona # LaCasadelF Fútbol pic.twitter.com/ODnPgOnlzI

– Football in Movistar + (@MovistarFutbol) November 29, 2020
Since the sad news of the death of Diego Armando Maradona was known, the San Paolo stadium in Naples began to receive hundreds of fans of the Italian club to honor the 10. A large banner with his face and the slogan "The King" was displayed in San Paolo, where he left some of his best performances as a footballer.
The stadium will be named after him
Aurelio De Laurentiis, Naples president, confirmed days ago that the San Paolo Stadium will be named after Diego Armando Maradona: «I think it is correct to call San Paolo with your name, so that you continue with us as a demonstration of the path of excellence that this team has taken», Said the top leader of the club.
Diego Armando Maradona wrote the most golden pages in the history of Napoli, the club in which he won two league titles (1987 and 1990), a UEFA Cup (1989), an Italian Cup (1987) and an Italian Super Cup (1990).