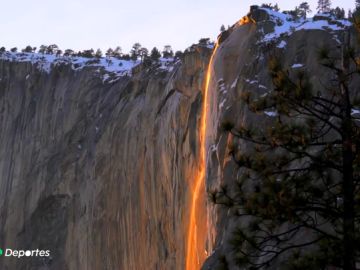 The Yosemite Park, In the United States, it is one of the great natural wonders of the world. Its granite formations, some a claim for climbers such as the Great Captain, its fauna and flora and its spectacular waterfalls are unique.
And during these days of February se has been able to see what is known as orange or fire waterfall. What's that? It is a phenomenon that occurs when the sun and water meet and create a brilliant orange color in the Horsetail Fall waterfall, which flows from the edge of El Capitan in the American Yosemite Valley.
The waterfall of fire can only be witnessed for a few minutes, when a small stream of water receives sunlight backlit by sunset.
"This unique lighting effect occurs only on nights with a clear sky when the waterfall is flowing," they explain from Yosemite Park.
The authorities of this unique park in the United States have reported that this incredible phenomenon will be visible between February 12 and February 24.
Yosemite Park is also famous for the Great Captain, a rock formation where Alex Honnold recorded his documentary Free Solo, in which he climbed the vertical wall of about 914 meters alone and without any type of rope or safety material.