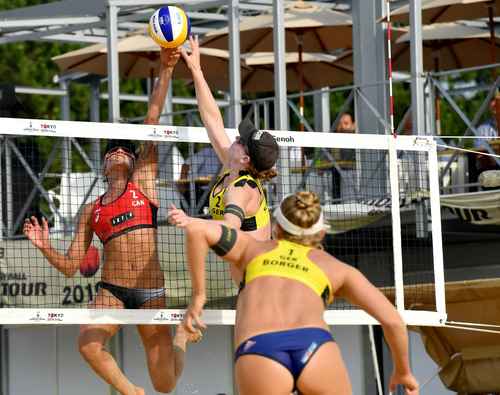 ▲ German stars Karla Borger and Julia Sude refuse to play in T-shirts and long pants Afp photo
Afp
La Jornada newspaper
Tuesday, February 23, 2021, p. a12
German beach volleyball stars Karla Borger and Julia Sude announced that they are boycotting a tournament in Qatar due to a ban on bikini play, a measure that organizers say they did not request.
We go there to do our work but we are prevented from wearing our work clothes, Karla Borger justified, on Sunday on the airwaves of German public radio Deutschlandfunk.
It is really the only country and the only tournament where the government tells us how to do our job. We criticize that, added the athlete, runner-up in the world.
Qatar is the host country for an International Beach Volleyball Federation (FIVB) tournament in March. It will be the first time that the small Gulf State has hosted an FIVB women's competition after hosting a men's competition for seven years and in 2019 the World Beach Games, where players were allowed to wear a swimsuit.
The players were invited to wear T-shirts and long pants instead of the usual swimsuits, a decision motivated according to the federation by respect for the culture and traditions of the host country.
The Qatar Volleyball Federation (QVA, for its acronym in English), organizer of the tournament, said in a statement that there was no request in this regard.
We want to make it clear that we have not specified in any way what athletes should wear at this event. We fully respect the code of conduct decreed by the International Federation and have shown in the past at tournaments in Qatar that they are free to wear the same uniforms that they wear in other countries, he said.
We want everyone to feel welcome and comfortable in this tournament that will be historic for Qatar, insisted the QVA.
In Spiegel magazine, Karla Borger insisted that normally she is happy to adapt to a country, but that the extreme heat in Qatar makes it necessary to wear a bikini.
Her partner Sude recalled that Qatar had already made exceptions, such as in the 2019 Doha Athletics World Cup for female participants.