A few weeks ago, one of the strategists who remained in the middle of the conversation was the call that Burger King made to its customers to buy from other businesses in order to reactivate local consumption. Now McDonald's seems to replicate this strategy with a different approach.
The house of the Whopper, from its social networks, issued a statement with a title that, without a doubt, no one can ignore: "Order at McDonald's".
After this forceful headline, the brand explains its reasons by clarifying "we never thought we would be asking for this. Like we never thought we would be encouraging ordering at KFC, Subway, Domino's Pizza, Pizza Hut, Five Guys, Greggs, Taco Bell, Papa John's, Leon… or any other independent food business, too numerous to mention here "; however, the brand recognizes that we are facing an unprecedented economic challenge.
"But restaurants that hire thousands of employees need your support right now," the writing continues.
This writing was tropicalized for various markets, with which in the case of the Mexican market, brands such as La Casa de Toño, Bisquets Obregón, Fishers, Tortsa Hipocampo, Shishi Itto, Fishers and El Califa were mentioned, which immediately located to the brand in the middle of the conversation.
In a similar fate, but with a different approach, the new McDonald's campaign seems to be going, which seeks to account for the fast food chain's commitment to local producers in the primary sector while inviting its competitors to replicate its proposal .
In recent weeks, McDonald's sought to reinforce its social commitment with the launch of Big Good, a 100% locally sourced hamburger that seeks to give greater visibility to producers from various areas of Spain. To be precise, in the elaboration of this product, the firm collaborated with more than 2,000 Spanish producers, who have been particularly hit by the pandemic.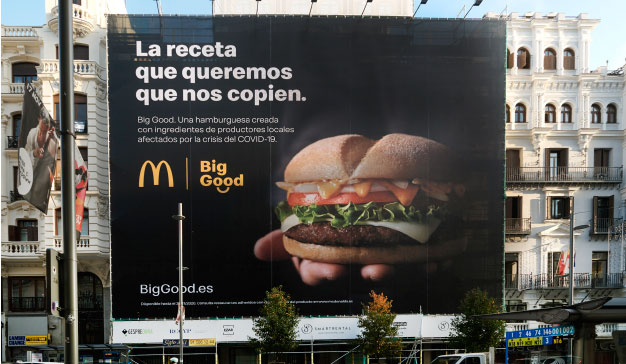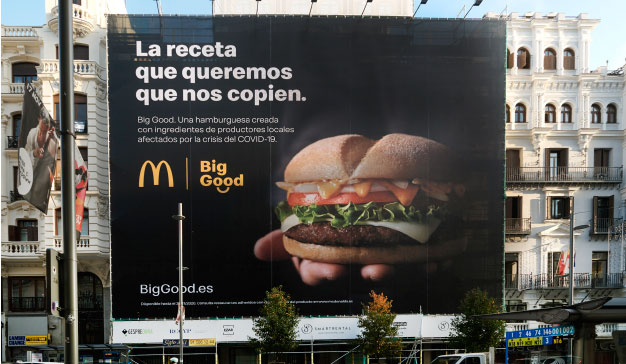 With the intention of promoting this movement, hand in hand with creative agency TBWA Spain and the media agency OMD, McDonald's has launched a campaign in which a single message is displayed: "The recipe that we want to be copied."
This execution has been seen on a large canvas located on the Gran Vía in Madrid, while it has been replicated in billboards and marquees throughout the city.
In this way, it is a message addressed to the competitors of the renowned fast food chain so that they join a movement that supports the producers most affected by the health crisis.
Specifically, the Big Good recipe consists of 7 ingredients for which demand experienced a significant drop during the pandemic, and that they come from different parts of Spain such as Extremadura, Castilla La Mancha, Castilla y León, Galicia, Madrid, Catalonia, Navarra, Andalusia and Murcia.
These messages that seek unity between brands to strengthen a visibly affected economy, reinforce a premise that has been on the table for months: the birth of a new competitor.
The problem a company like Burger King faces is not that people suddenly started going to McDonald's. At this time, restaurants do not even compete with each other, they compete against people who do not spend money on anything and who have taken their consumption to the interior of the home, both due to forced confinement and the search to save and privilege the care of their Health.
Although in the case of Burger King the phenomenon was read around what happens in fast food, the reality is that as McDonald's shows, the problem is greater and affects the entire generation of value.