The journalist and presenter Jesus Cintora has left several messages to RTVE in the last program of 'Clear things' issued this Thursday, July 22 after the decision of the public entity not to keep it on its television grill after 173 programs.
Jesús Cintora, in the last 'The clear things' on TVE: "They throw us out"
To begin with, Jesús Cintora said: "Good morning! How are you? Well, we are on the last day of this program of 'Clear things' in public. Thank you for joining us until the end. Here we are. They shut us down but we will continue to tell what happens until the last moment. Even if they close us. Yes, Aroca, even if they close us. "" Closing is a saying, a euphemism, "Javier Aroca pointed out, to which the presenter added: "They kick us out".
They took us out of a program with a government and they also took us away with another government

Jesús Cintora, in 'Clear Things'
Later in the connection with judge Joaquim Bosch, a regular on the program, Jesús Cintora added: "Mr. Magistrate, it has been a pleasure. They close us again. They closed us with one Government and now with another, but here we will continue, it would be more".
And, seeing that he did not answer, the presenter joked: "Magistrate? Well, the sound has even been cut off … Can you hear me, Mr. Bosch? It has been cut off. For talking about closing, they have closed the sound".
Maybe the fault is in what we tell

Jesús Cintora, on the end of 'Las cosas clear' on TVE
Later, Cintora has regained the connection because "Magistrate Bosch wanted to say goodbye, and he is going to do so." "It is a pity that the program is suppressed and not good news for pluralism typical of a democratic society. And I think this also affects the right to information, which consists of the real and true possibility that citizens can freely form their opinion based on the fact that there are spaces that allow it to do so, and this program had a very important audience ", said Joaquim Bosch.
At the time of the final farewell, after the words of the collaborators, Jesús Cintora has indicated: "For my part, many thanks to the public. Without you, nothing makes sense and I am extremely lucky that there are people who even defend me, in networks or wherever. Thank you also to the team, a spectacular team, with enormous talent. No one has come here to be my cousin, not my girlfriend, not my sister. Here people come for their talent. Some, by the way, are still on another project. Good luck on that project. Good luck to the producer, because the production company continues. I do not".
"I did not decide to outsource this; I say this through some colleagues from Televisión Española … They commissioned me to do this like this. So I accepted it and so I have left my skin for this television, by this chain. I have tried to do it with the greatest humility. Getting up at 4:50 in the morning and entering this building at 5:50 am turning on the light in the newsroom. I have tried to make this work as best as possible. I have left my skin. Sometimes I wish they had defended me more or that they had not attacked me, but I, while I've been here, have tried to do my best. As my mother used to say, in a town a mother with a mobile phone who watches the news and who sees what she has called a hunt, of permanent news … No one has spoken about what I have worked on in my life from a very young age. I invite you to see my academic record", has said.
"I invite my colleagues to come in, they can come in now (to the set). You can come in. It's a job that we've all done with the greatest humility. They took us out of a program with a government. They also take away another government. Right now what there is is a commitment to humility and truth. We have told what happened. Thanks a lot. Thank you ", Jesus Cintora finished to the applause of the team.
I wish they had defended me more or that they had not attacked me

Jesús Cintora, in 'The clear things' of RTVE
But the presenter has added one more thing: "I will only say one thing. If I can I will say one thing: We do journalism. There are people who do other things from behind. And with that we have a very big problem. Be honest. Do journalism. And thank you very much. They stay with the news. Follow the television. "
We do journalism. There are people who do other things from behind, and with that we have a very big problem

Jesús Cintora, in 'Clear Things'
Javier Aroca receives his dismissal letter in full direct of 'Clear things'
In the middle of the program, upon returning from a 15-minute disconnection for territorial information, Cintora said: "Last minute. Aroca has been given a piece of paper. It is not good news, it is a role that Aroca has just been given and we are going to tell about it. "
Javier Aroca receives his letter of dismissal in full direct of Las things clearRTVE
"Can you see the paper or not?" Cintora asked minutes later. "Yes, of course you can see it. I got fired. Like every day. Here is my contract and my dismissal. It makes me laugh. It makes me laugh because those of us who come sometimes receive some kind of missive that even doubts our vow of poverty. They will think that here we earn a fortune and that we are already insured but this is not a revolving door. Here we come, they give you the paper and 'see you later Lucas'".
"This is all for those of us here that I know at least. It's the last day, the last program. It ends. We're not going, they kick us. But we are going to continue … ", pointed out Jesús Cintora, giving way to the next news of the program (the arrival of a whirlpool at a soccer game in Bolivia as narrated by a commentator) of which the presenter has said that "Aroca is with the joke that this has happened to us too."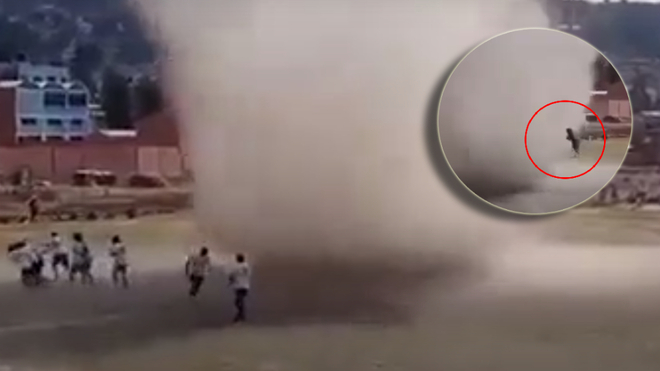 Shocking: a whirlpool interrupts a match and takes the referee flying
Laughing at the images and the narration "as if it were Maradona's goal", Cintora explained: "The whirlpool came and came, and everything was out. I admire the one who tells it, which is what you always have to do: tell it until the end If the whirlpool comes, then the whirlpool counts. Here it hurts that if the emeritus is present, then the emeritus is counted. What goes up the light? Well, it is said that the light rises".