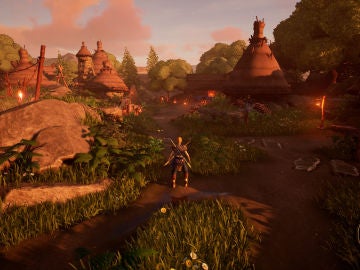 Many players were fascinated by the great presentation of The Waylanders, a work full of magic, RPG and, of course, great characters to meet. What I liked most about this title is that it was inspired by the Celts by a study from Galicia. A commitment to development in Spain that has received great support from the gaming community.
Of course, the studio still has a lot of work ahead of it having a degree still in an early stage. For this reason, they have not hesitated to share the roadmap they are going to follow, showing that before the end of this year, the game will receive a significant improvement with new cinematics, gameplay improvements and other important aspects of the game that will give you a new life.
In addition, you will finally receive one of the most requested features by players: the photo mode. But nothing ends here, but the company has already advanced that has in mind to bring two new missions that will take the players to the Underground world and where the first act of the game will conclude, something that, for the moment, we have not been able to know or imagine how it will be.
Of course, if you are eager to try The Waylanders adventure, we remember that the work is available on PC. Of course, still in an early phase of its development, so there are some graphic errors, small faults in its scenes and errors in combat. But, without a doubt, it is a good way to get to know up close what the development of video games is like.