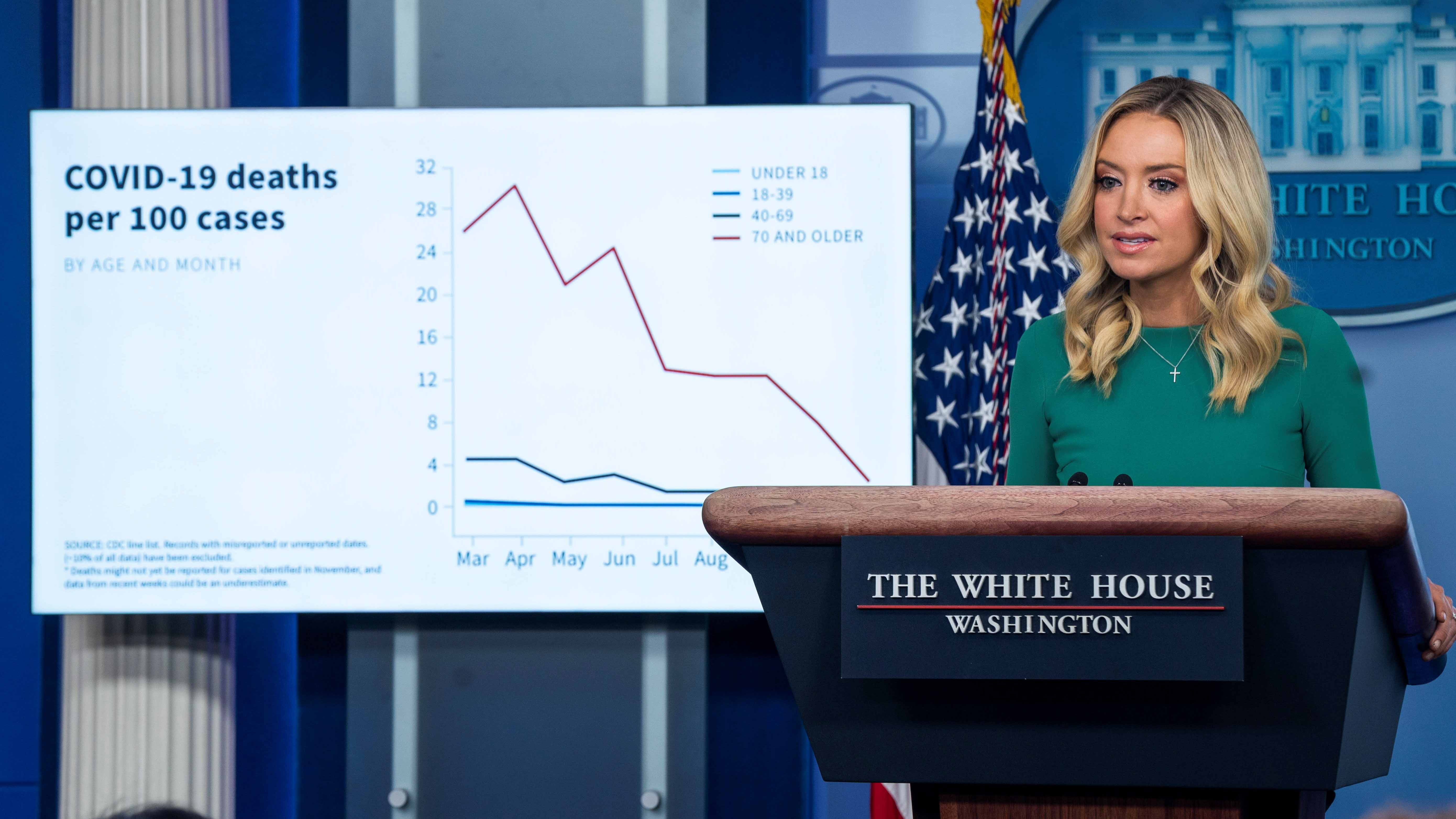 WASHINGTON – The administration of President Donald Trump announced Friday that there will be about 40 million doses of the COVID-19 vaccine available in the United States by the end of this year, thanks to advances from pharmaceutical companies Pfizer and Moderna.
"Regarding the vaccine, we believe there will be 40 million doses available by the end of the year," said White House spokeswoman Kayleigh McEnany at a press conference, the first since Oct. 1.
McEnany recalled the advances experienced by Pfizer and Moderna, which have reported "successful results" in their vaccines: "Each has achieved a vaccine against COVID-19 that is around 90% effective. We know that Moderna's is a 94.5% effective and Pfizer's 95%, this is extraordinary, "he said.
During the press conference, McEnany insisted on attributing the progress in vaccines to Trump's administration, despite the fact that at the beginning of the pandemic he intentionally underestimated the importance of the disease, which he himself has recognized, so that there would not be panic among the population, and refused to wear a mask in public for several months.
The White House spokeswoman stressed that "this really extraordinary progress that you have already heard from Dr. (Anthony) Fauci (the government's chief epidemiologist) and others talk about was only possible because of the president, who said at the same time 'I'm going to look for a vaccine, I'm going to do something new, I'm going to make it 'so that many American lives are saved, thanks to President Trump and the great work of Operation Warp Speed. "
Advances in its production predict a prompt distribution.
This operation was launched by the White House in collaboration with the Pentagon to facilitate the manufacture and distribution of future vaccines against the coronavirus.
This Friday, Pfizer and its German partner BioNTech requested emergency authorization from the Food and Drug Administration (FDA) to be able to begin distributing their vaccine, which could be supplied to a population at risk from December.
The FDA will need to review at least two months of volunteer response data to the vaccine, as well as certify its safety in children, the elderly, and racially diverse, but given the urgency of the process it could take weeks for the first American vaccine against covid-19 is available.
Pfizer has not used funds from the US government for the development of the vaccine, which it has financed out of pocket, although it has reached an agreement with the federal government worth almost $ 1.95 billion to provide them with 100 million dose.
For its part, Moderna, which has also presented preliminary results similar to those of Pfizer and could apply for emergency authorization shortly, does owe part of its success in the historically rapid development process of the US government to the injection of funds. the vaccine.