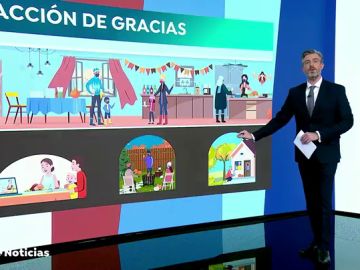 The Thanksgiving Day in United States. Next Thursday, November 26, will be marked, as everything happened during this 2020, by the pandemic of coronavirus.
The authorities want to avoid contagion during this day and therefore have developed a guide with security measures and recommendations to take during the traditional turkey dinner.
First of all, as is obvious, everyone will have to carry mask, except when it is essential to remove it. In addition, the safety distance at all times.
But the recommendation that can generate the most controversy in the North American country is that of do not invite anyone to dinner at home. In this way, the maximum number of people per dinner will be reduced and with it, the possibilities of spread in the event of contagion.
Furthermore, the North American authorities They offer various alternatives such as having turkey dinner outdoors or seeing each other only by videoconference. They also ask that if there are older people who are going to have dinner alone, food be provided.
All this with the worrying rhythm of almost a million new infections every week. The United States continues to be the country most affected by the coronavirus pandemic with 156,000 deaths and more than 12 million positive cases.