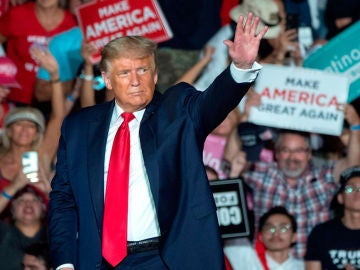 Former US President Donald Trump has started the week with a major defeat. The Supreme Court has rejected the former president's latest attempt to hide his financial history.
Trump's accountants must provide all the financial information requested by the New York prosecutor's office. The prosecutor speaks of a "extensive and prolonged criminal conduct", would be investigating potential financial crimes.
The Supreme Court thus paved the way for New York City Manhattan District Attorney Cyrus Vance to obtain Trump's tax returns, This represents a severe legal setback for the former president, who has strongly opposed handing over his financial accounts to the court.
Even so, documents will not be made public, since, according to the Supreme Court's ruling, tax returns will be subject to the grand jury's rules of secrecy.
Trump framed the decision of the Supreme Court in the "political persecution" and the "witch hunt" that he has been denouncing when it comes to legal decisions against him or the two impeachment processes that he has had to face.
"For more than two years, New York City has been analyzing almost every transaction that I have made, including tax returns that were filed by the largest and most prestigious accounting and law firms in the United States (… ) The Supreme Court should never have allowed this 'fishing expedition' to happen, but they did, "Trump complained.