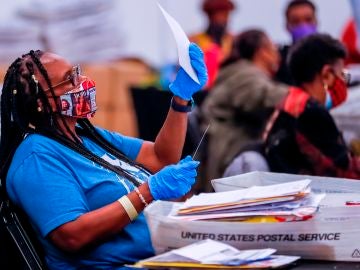 Published:

Tuesday, November 17, 2020 08:01

The authorities in Georgia (USA) reported the finding of some 2,600 votes that were not counted during the scrutiny of the elections on November 3, a figure that does not alter the provisional result in favor of the Democratic presidential candidate, Joe Biden.
Georgia began a manual recount of the ballot on Friday last week after the ballot concluded with President-elect Joe Biden, overtaking the still president, Donald Trump, by just over 14,000 votes. The votes found during the manual recount belong to Floyd County, where Trump prevailed with more than 70%.
As he told the local newspaper The Atlanta Journal-Constitution the chairman of the Republican Party in that county, Luke Martin, the votes found will allow Trump to reduce the margin of more than 14,000 that Biden gives him by about 800 votes.
"It is very worrying, but it does not appear to be a widespread problem. Glad the audit revealed it and it is important that all votes are counted, "said the Republican leader.
Election authorities in Georgia attributed the incident to human error during the count and They detailed that the votes were not counted because county workers forgot to upload a file they had on a memory card into the system.
They also assured that no similar errors were found in other counties during the manual count that began on Friday and is due to end this Wednesday, before the state certifies its results. It was precisely the manual count in Georgia that Trump referred to on Monday, calling it "false."
"The false count that is happening in Georgia doesn't mean anything, because do not allow signatures to be examined and verified ", affirmed the outgoing president, who has not yet recognized his electoral defeat.
The Trump campaign may call for another recount in case the results they certify the state on Friday give a less than 0.5% advantage to Biden, a more than probable scenario given that the current difference is three tenths.
Trump maintains that irregularities occurred in several of the states that led to electoral fraud against them, but at the moment he has not provided evidence and the lawsuits he has presented in court have not borne any fruit.