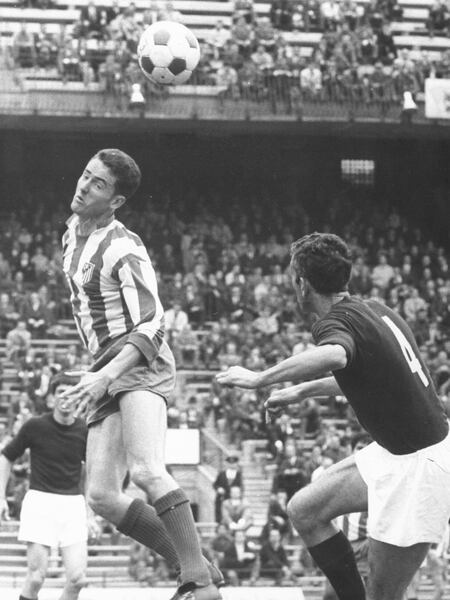 Pastor heads one of his two goals against Torino.
In the sixties there was the European Cup, Recopa and the Fairs Cup, which was later called UEFA. Any good fan remembers it. But few know about the International Cup, in which Atlético presented a center forward named Pastor against Torino, who scored two goals and disappeared.
He was born out of the Rappan Cup named after Karl Rappan, an Austrian interwar player, then the inventor of the bolt as the Switzerland coach. That Rappan Cup was the second step of the Mitropa Cup (from MITtel-euROPA, Central Europe in German) that the champions of the Danube countries, Switzerland and Italy contested. The Rappan Cup was not played by the champions, but by those who came after them. And just as the European Cup took the Mitropa ahead, the Recopa and the Fairs Cup put Rappan in trouble. To save it, a group of gamblers from Switzerland decided to open it to prestigious clubs in any European country that had been left without qualification for any of the others. And they renamed it the International Cup.
In that case, Atlético and Espanyol were in 1968. It started with groups of three, of which the last one was out and two followed. At Atlético they played Torino and Ajax. Al Espanyol, Munich 1860 and Austria Vienna.
The idea was to start in the summer, but Atlético and Torino brought their first game forward to May 1. It was played at noon, in the Manzanares, and on television, because the Regime tried to keep people entertained on that date to avoid demonstrations. Attendance was weak. TV was a great novelty and it kept a lot of people at home. In addition, the next day there was a Sweden-Spain and between selected and injured there were missing starters at Atlético. In the center of the attack, Vicente Pastor, brought from Gandía, made his debut. Hernández played as a left winger, taken to the test of Calvo Sotelo. The rules of the competition allowed, apart from two changes (not yet authorized in non-friendly competitions), a loan.
Atlético won 2-1. The two of the debutante Pastor. But then… In August Atlético visited Ajax, which a few months earlier had put Madrid in trouble in the European Cup, qualifying after an agonizing overtime and a miracle goal from Veloso. Cruyff and his large group emerged. Although Cruyff could not play against Atlético due to injury, the final result was 2-0. And thank you, because there were three Dutch shots to the post. That Ajax began his acceleration.
We had to visit Torino and receive Ajax. Winning in Turin Atlético passed safely. It was with all its headlines and full of morale after winning the Carranza, but lost 5-2. It was 1-1 in the 20th minute when central Griffa was sent off and the team collapsed. The last game, 1-1 at home to Ajax, left him third in the group. Tremendous disappointment. Espanyol started losing in Munich, but then won both games against Austria in Vienna, thus ensuring qualification. The return leg against Munich 1860 was never played … nor any more. The Soviet army broke into the movement known as the Prague Spring and that International Cup, the only one in which Spaniards participated, remained unfinished. It still followed some years, although without proclaiming champion, almost like a succession of friendlies, sustained by betting. From its ashes the Intertoto Cup would emerge in 1995.
Regarding Vicente Pastor, with such a brilliant debut with his two goals against Torino, his was his debut and farewell. He had no new opportunities. Atlético had Gárate, Orozco and Clares in that position and they yielded to Rayo, in Segunda, to complete their formation. He played at a disadvantage for the position with Yanko Daucik, a set center forward, who had passed through Betis, Madrid and Mallorca. The coach, José Antonio Olmedo, saw Pastor as a profitable player and looked for a place in the media. There he worked like a charm, to the point that he entered a preselection for B, but suffered a tear in Vigo that stopped him. Full healing would never come. It was an unlucky talent. Already when he was a youth at Valencia he had suffered a retinal detachment that delayed his career. That got over it, this didn't. After some attempts in the Valencian Third, he left football.
He does not complain. Today he lives in Bellreguard, next to Gandía, and that memory doesn't weigh on him: "I scored two goals, but don't think I played well either. I was not happy with myself. From that I still have the press clippings, which my mother always kept ".