The premium division of the Japanese brand has presented the new performance version of its renewed mid-size sedan. The new Lexus IS 500 F Sport Performance becomes a new rival to the BMW M3, at least in the US market thanks to its 5.0-liter, 478-horsepower naturally aspirated V8.
Finally, the rumors about the new Lexus 8-cylinder variants have ended up being true, as the launch of the new one demonstrates. Lexus IS 500 F Sport Performance, which debuts as the new flagship version of Toyota's Premium label's smallest sedan offering.
The Lexus IS was renewed in the middle of last year with the presentation of a new generation that, although it used much of the technical section of its predecessor, such as its platform, It arrived with a very renewed style and a suitably modernized equipment section, to be able to cope with the mid-size sedans of German premium brands. Since at this point, in a market dominated by SUVs, we do not find too many alternatives in this segment.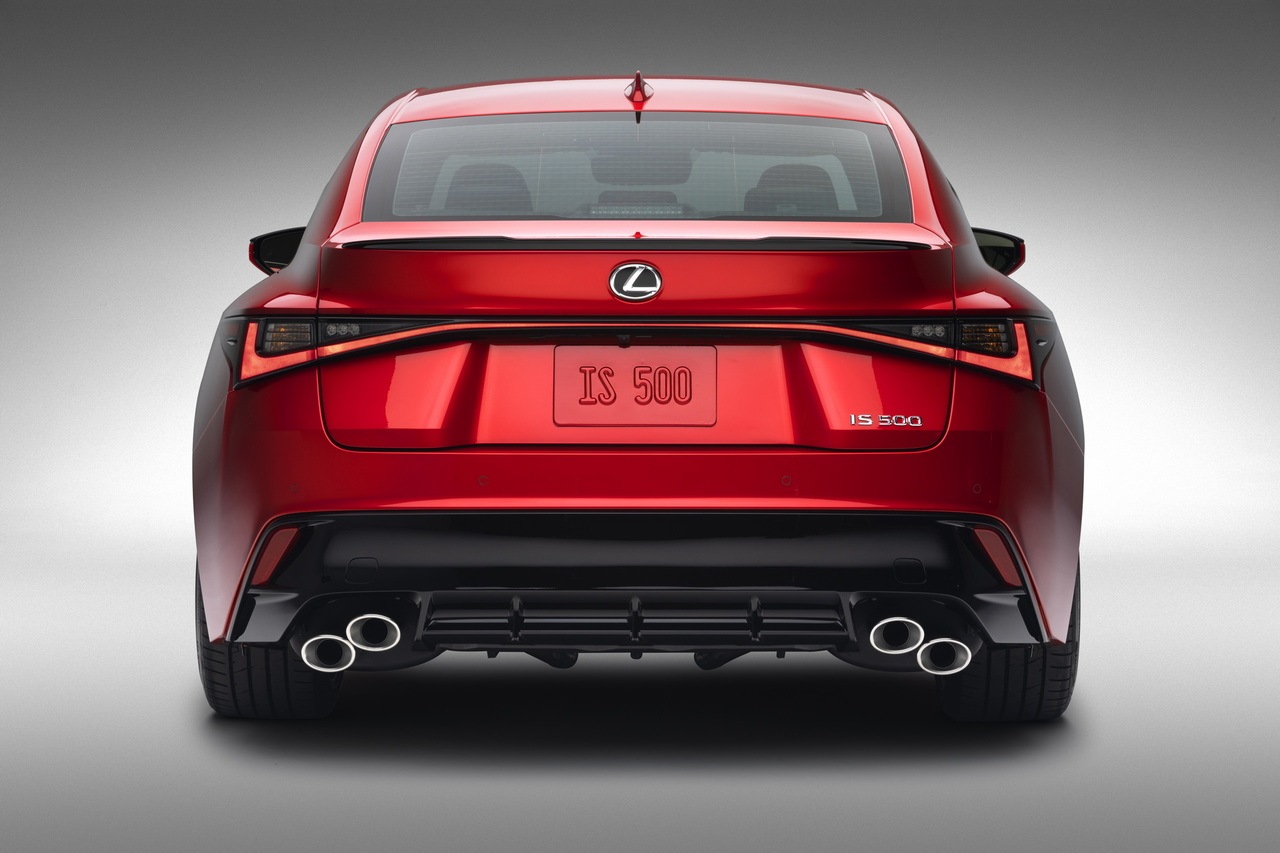 The 4 traditional tailpipes of the Lexus F versions.
The new Lexus IS 500 F Sport Performance can be considered the last swan song of the models of its type, created under the classic recipe of increasing displacement to increase power. A totally obsolete scheme nowadays, as it has gone from being the norm to becoming a rarity in recent years. Now the usual thing is to find supercharged smaller displacement engines or hybrid versions aimed at increasing power but minimizing consumption and emissions. This new version of the Lexus IS uses a totally opposite solution, since instead of the efficient hybrid engines that are available in the Japanese brand's catalog, it uses the enormous 5.0-liter atmospheric V8 of the LC and RC ranges.
Mechanics
This 8-cylinder block does not employ supercharging of any kind and delivers 478 hp and 535 Nm of maximum torque, which are piped exclusively to the rear axle via an 8-speed automatic transmission and a Torsen limited-slip differential. Thanks to the new mechanical performance, this version of the midsize sedan is capable of go from 0 to 96 km / h (0-60 mph) in just 4.5 seconds, a figure somewhat higher than that of the new BMW M3 (G80), which in its most basic version has an almost identical power figure.
In addition to the new V8, this version has reinforced axles and some new exterior features, such as its new, more aggressive design bumper with larger air intakes or its bulky hood, whose function is none other than to make room for the larger mechanics. The configuration of this new F Sport Performance version is completed with the Dynamic Handling Package, which includes adaptive suspension, 14-inch front brake discs and 12.7-inch rear axle, 19-inch Enkei wheels and a new rear diffuser where we find the usual 4 diagonally located exhaust outlets.