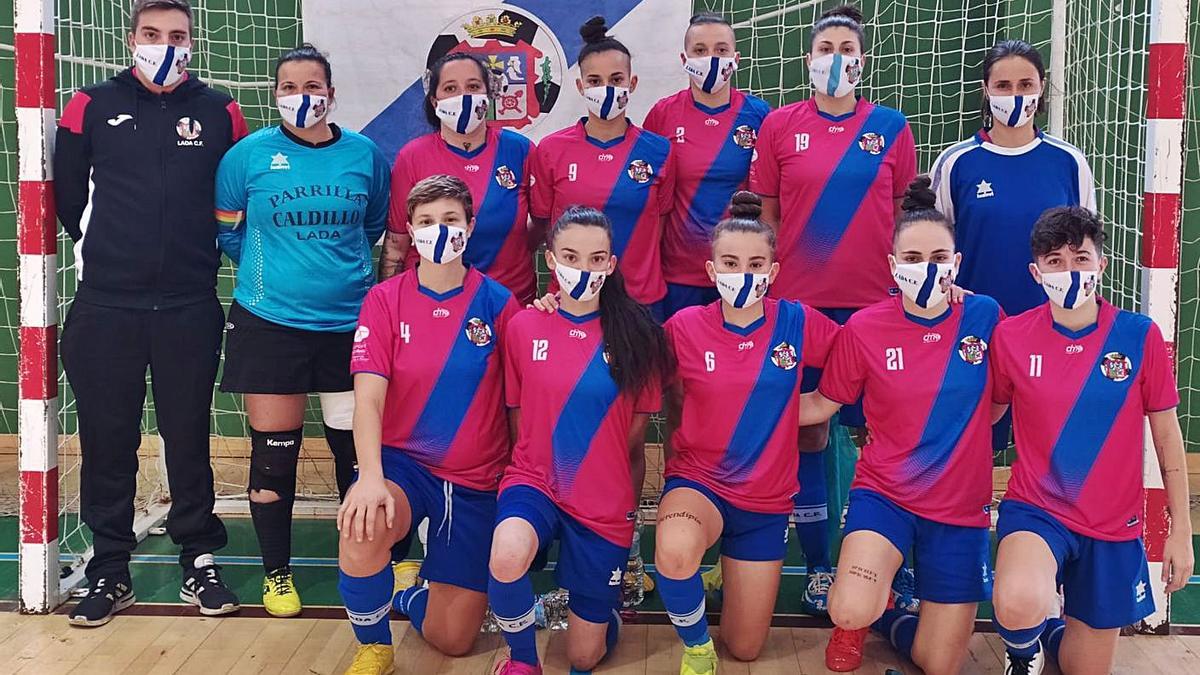 A formation of the Lada Langreo. Standing on the left, Álvaro (delegate), Cuchas, Enola, Aitana, Peque, Adara and Yeni; crouching, Rocío, Yaralla, Katya, Amanda and Carla. | LL
Lada Langreo will have a new opportunity today to inaugurate its points account in the Second Women's National Indoor Soccer Championship, in which it makes its debut this season. At 6 pm, the team led by Francisco López, Fran, receives the Basque Gora, third place in subgroup B in the silver category, at the Los Llerones sports center. "The difference between playing second in the regional division is noticeable, but now we have some continuity in training and I hope the team competes," says Fran, who is in his second season as a coach.
The one-week stoppage due to a positive for covid-19 altered Fran's plans, aware of the limitations of her team in a very demanding category. "In the first two games we lost by landslides because we had very strong opponents and we were not prepared. But now the team is better and I hope that, at least, we make it difficult for Gora ".
After a somewhat unexpected ascent, Fran emphasizes that the goal is to improve and enjoy: "If we go down, nothing happens." He has the support of the club, "which is very committed to grassroots and women's football", and is not satisfied with the current situation: "We have been training well since October, but we needed a track, to play games. Surely in the second round we will wage war. The category is a motivation for the players and these games are a showcase for them ".