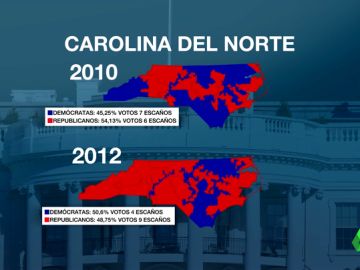 Published:

Saturday, November 21, 2020 16:22

On November 3, we were all aware of the Trump-Biden duel, but that day they also voted 86 state chambers. In some, a game has been played that will impact national American politics for the next decade.
This is how Roger Senserrich, an analyst at Politikon, tells us: "The drawing of the electoral districts in the House of Representatives is decided by the state legislative, so if you have won the state elections in Michigan, the party that has won those elections will decide the drawing of the seats".
In the House of Representatives of the United States, equivalent to our Congress of Deputies, sit 435 congressmen, and each of them represents the electoral district in which they have been elected, so the map of the United States is divided into 435 electoral districts.
Whoever has the most votes in that district wins, so drawing the borders of that map well is essential. "Since the geographic distribution of voters is fairly clear (rural voters are more Republican and Democratic voters are more urban), you can draw the districts for spread your progressive voters into rural districts and dilute them. It is what is called 'gerrymandering'"Senserrich adds.
If we take a fictitious state in which 5 congressmen are played and there are 100 voters -60 from one party and 40 from another-, depending on how we draw the lines of the 5 districts, we will get from 5 votes for the most voted party, until the least voted gets 3 of the 5 representatives.
This drawing of the lines is done every 10 years, coinciding with the census years, like this one. The last time was in 2010, a particularly good year for the Republicans at the polls who did not hesitate to take advantage of it.
"Not only did they redraw the constituencies in Congress very favorably, but the state districts as well. So you have states where you have elections that are very close, but that Republicans win by a landslide"says Senserrich.
As we can see in the video, if we take as an example North Carolina, its map was stained red after the Republicans' change of lines in 2012. Although the Democrats had more votes, the Republicans took 5 seats from them in the distribution of seats.
Senserrich affirms that this problem can only be solved "winning in census yearsBut in 2010, "the Democrats had a disaster" that has weighed them down. One more obstacle for the Biden administration, which could lose the House of Representatives in 2022.