The collection thirst of Javier Tebas and Jaume Roures have the world of hospitality on the warpath. Many of them have unsubscribed, others have requested a rebate such as the one that the Catalan businessman will get in his contract with the League, while a small part has decided to risk giving football in an illegal way in the eyes of Justice.
"They ask us 400 euros to give football and this price is an exaggeration. They have not reduced the price a penny in spite of the pandemic, capacity restrictions and closing times. It is normal that many –as OKDIARIO has learned more than 25,000 hoteliers– have decided not to continue paying these abusive amounts», Indicate from the sector.
Some of them have decided to reveal to this newspaper an increasingly common extortion method in the Tebas-Roures business. «Detectives from the League come every two by three to our bar to make sure that we are giving through their channel –La Liga TV Bar– and some of us, due to the crisis we are experiencing, cannot afford it. Many have started giving the games with the classic Plus device and others sharing with Yomvi through the computer. Those who get caught lose their hair», Confesses a hotelier who is living a judicial process with the League.
«They caught me playing football, although Yes, I paid religiously for the Movistar in my house and they did the following to me. The detective took my note and told me they were going to report me for this. The next day a Mediapro commercial appeared and told me that they were taking my judgment if he bought his device to give football. He gave it to me for free for a few days to try, but then we gave it back and they put me on trial for piracy», Adds this hotelier, who prefers not to reveal his identity for fear that the League will take his business ahead.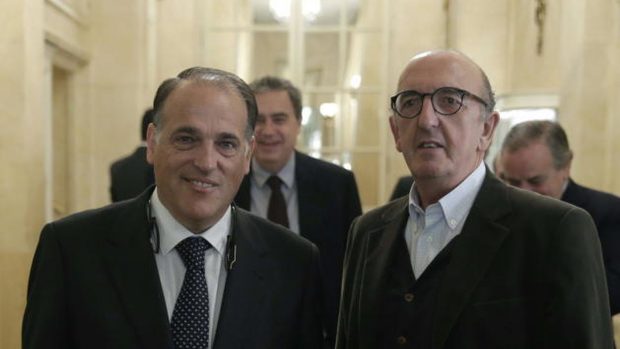 This type of extortion has been confirmed by more hoteliers, who add that it is a very common modus operandi since summer. «Coincidence or the ones from Mediapro don't show up the day after they catch you to sell you their football device. They also tell us about Movistar and other operators, but they tell us that this is easier and has many more advantages because you do not have to hire internet or mobile phones … ", adds another hotelier about the offers made by commercials from Mediapro once they know they have that 'brown' on top.
A ruinous business
It must be remembered that the company of Jaume Roures paid 460 million euros for three seasons in the summer of 2019 to seize these rights that seemed El Dorado to him and Thebes. The president of the League, who happened to hire a one hundred detectives to fight piracy months before signing that contract, clearly acts for the servile benefit of the Catalan businessman by teaming up to get money from the hoteliers.
Exactly one year ago, Tebas and Roures met to publicly present the 'Study of soccer consumption in public places'. At that time they admitted that 50,000 locals paid the quota for having football and that there was a short-term goal of reaching 85,000 thanks to the fact that they would be able to fight piracy and make the wayward locals pay. Today that amount, because of the pandemic, is 25,000 and there is no way that this business is viable for anyone because of Mediapro's tendency to inflate bids and how bad returns it has given in France –expelled by defaulters– and in Italy.
"It is as if they sell you an electric car and you cannot charge it. If the bars are closed we have to see at least how this is combined »Roures said to try to explain a situation that is reducing his business to a minimum. Tebas, who sees with zeal how the Premier takes 600 kilos per year for this type of concept, He is giving everything to make the business go well for his friend to the point that he was fined 250,000 euros for spying on the mobile phones of users of the League application. It must be remembered that Thebes defended that the microphone of the 50,000 people who had the APP was tapped in search of piracy, but it did not pass for the Spanish Agency for Data Protection (AEPD).
Now the hoteliers reveal the latest tactic of the Tebas-Roures tandem to fleece them. The League plays a bad cop denouncing the pirate premises and the next day a Mediapro commercial appears as a good cop giving all kinds of facilities to avoid a trial. For hoteliers, out of fear or ignorance about the sanctions that may apply to them, they usually have no choice but to accept this 'blackmail'.