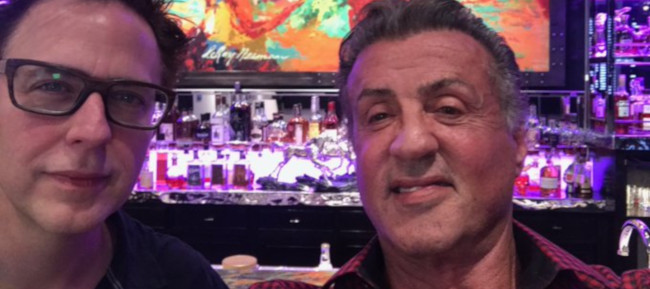 Director of 'The suicide squad', James Gunn has confirmed via Twitter that Sylvester Stallone will appear in the long-awaited Warner Bros./DC sequel. It will be the second time that Gunn and Stallone work together, as in 2017 the actor played Captain Stakar Ogord in 'Guardians of the Galaxy Vol. 2'.
At the moment there are no details on the possible role of secular action star, although some media speculate that Stallone could be the voice of King Shark, played on set by Steve Agee. Also, this announcement confirms that Gunn has started working on additional photography for 'The Suicide Squad'.
The film's extensive cast includes John Cena, Jai Courtney, Joaqun Coso, Joel Kinnaman, Maylin Ng, Flula Borg, Juan Diego Botto, Storm Reid, Pete Davidson, Taika Waititi, Alice Braga, Tinashe Kajese, Daniela Melchior, Peter Capaldi, Julio Ruiz, Jennifer Holland, Viola Davis, Idris Elba, Margot Robbie, and Sylvester Stallone.
Written and directed by Gunn, with Charles Roven and Peter Safran as producers of the film and Nik Korda as executive producer, if nothing changes this film will hit theaters around the world on August 6, 2021.
Based on the 1959 DC comic created by Robert Kanigher and Ross Andru, 'Suicide Squad' premiered in August 2016 with a worldwide gross of $ 750 million for a budget of $ 175 million. It also obtained an Oscar for Best Makeup and Hairstylist, being the first film in the DC Universe to obtain a statuette.
Always love working with my friend @TheSlyStallone & our work today on #TheSuicideSquad was no exception. Despite Sly being an iconic movie star, most people still don't have any idea what an amazing actor this guy is. 🙌 pic.twitter.com/LFVBoxscKR

– James Gunn (@JamesGunn) November 14, 2020