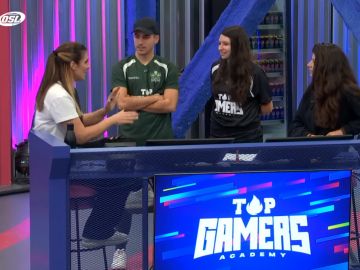 One of the most interesting points of Top Gamers Academy it is how our applicants always find new challenges to be able to overcome themselves. The intention is to get to the top, to seek that no challenge can overcome them and, therefore, we always see that intention of constant improvement. But how has this new day been for the contestants? It's time to review this Thursday, November 19.
Clash Royale class with Carlota
After the competition of Clash Royale from the day before, Carlota returns to go over some of the points with them. After all, you have seen mistakes that you must polish, but above all bad tendencies that you must correct. So he does not hesitate to clear his doubts, to try to extend a hand to them and to see that they can get to prepare for the tournament on Saturday.
Of course, our applicants also show a small part of their burden, of their concern. They know that there are fewer and fewer left, they are prepared for the great competition. But nothing prevents them from wanting to continue giving everything and avoid, as much as possible, having to leave the Academy.
Interpretation class with Gemma Manzanero
Besides being a spectacular teacher of Videogame history, Gemma is able to bring out the most creative and fun side of the applicants. Therefore, we have before us the possibility of seeing one of the classes that has brought out the possible connection between the players. All while letting themselves be carried away by their own intuitions.
So, as couples, you should be able to connect nose to nose while one partner is blindfolded. For this reason, his teammates are guiding him and, although in some cases he has finished in victory the first time, in others they have had to spend a little more tense time. Of course, no one denies that smiles have been well present.
Fortnite class with the unique Suja
Suja is one of the teachers who most manages to call applicants to launch themselves and seek to improve. So he has returned to the Academy with the intention of making them the best in Fortnite. Especially so that they can give their all in tournaments and even more in Fortnite Profit, where of course everyone competes to get the streaming time.
During his visit he does not hesitate to advise them, guide them for a fair style of play and, above all, balanced. And is that our teacher is prepared to turn them into the best battle royale players, although this process may be somewhat complex. But we have already seen great results from her classes, as in the case of Ruby, who by not knowing how to play, has become one of the best.
Visit with rhythm: Eva Barreiro
The rhythm is also guaranteed in the Academy and it is that for our aspirants, Eva Barreiro has approached, known by many for her interpretation of one of the League of Legends themes in Spanish. This has been animated and even willing to participate in the Academy, so it would undoubtedly be a good proposal for a second edition.
What we do know is that our applicants have enjoyed the visit since good vibes and some good music have not been lacking. After all, this artist is spectacular in every possible way. And it has left us speechless when it comes to dealing with applicants and showing their great art live.
Gran Turismo Tournament and Fortnite Benefit
Of course, after a visit that has left with the spirits in style, it is time for the applicants to enjoy the competition. So the time has come for our contestants to take the wheel and do not hesitate to compete to get to the finish line as quickly as possible.
Of course, we not only have a Gran Turismo competition that will continue to score points for the team, but we also have the opportunity to enjoy a Fortnite Profit tournament. In this, our applicants have sought to give the most spectacular plays and they are eager to get their extra streaming hour.
Update of rankings and streamings of the night
Of course, the Gran Turismo competition has left us with a very good taste in our mouths. And we have clear winners in the different teams. In fact, Mole-mice they remain fixed in the first position while the Calvalleros are in second position and, finally, the Lemon Sharks remain in the third position.
The competition is still very present and they are ready to reach the top. Of course, the time comes for Eka, Alba Vicius and Pepelu stand out with their nightly streams. A really interesting proposal that will guarantee that applicants can contact their followers.