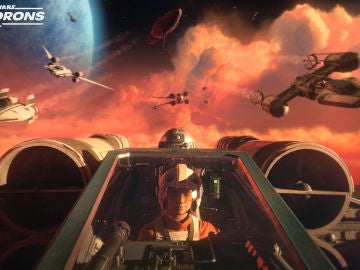 Many players have been fascinated by the great Star Wars Squadrons proposal, a title that seeks the best pilots for both the good and the bad side. The company's intention is to offer gamers a complete experience, one that allows users to feel like authentic pilots of the Star Wars ships.
Of course, although its success has been very present from the beginning, the company wanted to go a step further. After all, they do not want to be accommodated, but rather they want to continue offering great proposals for players and, therefore, the company has announced two free post-launch content that will arrive during the holiday season.
The first, November 25, will arrive with a new map based on Port Forstar, a location really known among fans. It will remain available in Fleet Battles and Starfighters mode. The update also includes new components for the ship and some extras to become the pilots of one of the most powerful ships in the galaxy.
On the other hand, in December, two new starfighters will arrive and even custom games will be included in the seven maps present in the Melee and Battle of the Fleets mode. An interesting proposal that undoubtedly guarantees that players can enjoy the best content. And that, above all, proposes users to unleash one of their dreams. So if you have not yet tried the great proposal present in Star Wars Squadrons, we remind you that it is available on PC, Xbox One and PlayStation 4.