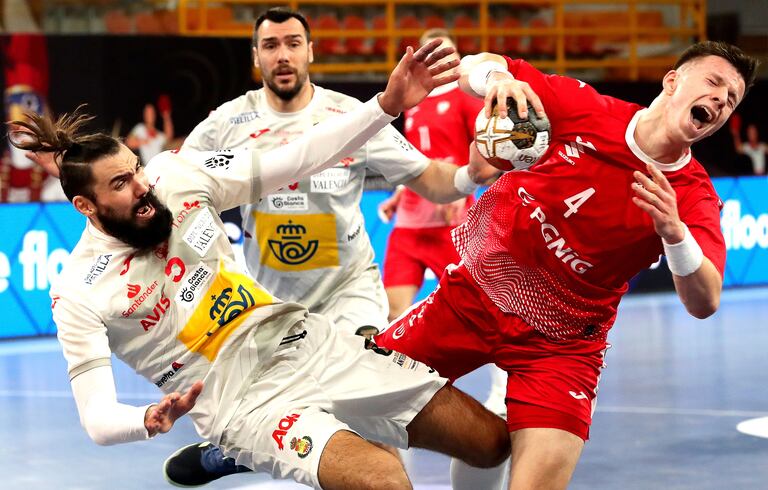 Maqueda (left) and Olejniczak, in an action for Poland-Spain.Khaled Elfiqi / POOL / .
With a blow to the kidney and with a good dose of suffering, Spain escaped alive from a difficult trance against Poland (26-27) that serves to straighten out their situation in the World Cup after the initial draw with Brazil. Already on the second day a relevant crossroads awaited him for his future aspirations in the tournament, and even immediate ones, and he was able to find enough solutions to move it forward despite the new blackout that he suffered midway through the second half. In front of him he had Morawski, a colossus in the goal (17 saves and 41% success), and a powerful outside launch battery. The victory places him as the group leader with three points and this Tuesday against Tunisia (18.00, Teledeporte) a key cross awaits him to finish off the pass to the second phase.
"The first final is coming to us very soon," had warned Viran Morros, an old fox who knows everything in these championships. Perhaps thinking that the poor preparation (only one game before traveling to Egypt and two in all of 2020) and the group's seniority required a more idle start, without much stress. But the unforeseen draw against the Canarinha last Friday reduced Spain's margin of error and the national team responded at the beginning with a better pulse than that exhibited against the South American team. It was not a rip and tear staging, but it did have a more legible handwriting.
Morawski did not make any stops in the debut against Tunisia, but against Spain he became a wall. It was not long before he was present. His stretches and some failures of the selection in the throws of six meters prevented the Hispanos from taking more advantage. The appearance on the court of Entrerríos, however, boosted Jordi Ribera's boys. With his outside success (three out of three in the first half) and his passes (he left a fantastic one to Figueras without looking), Spain took more air. Until then, the team had not benefited much from the constant losses of Poland (11 in the intermission and 16 at the end, for the seven of Spain). Rodrigo Corrales, who did not want to be less than his colleague, also added to the improvement of the selection. At intermission: 11-14.
The second half began to the rhythm of the Dujshebaev brothers, who added four of the first five goals for their team and the team reached its maximum income in the 34th minute (12-17). It seemed that he had finally managed to tame Poland, but that was actually an optical effect. A partial 8-2 turned the scoreboard (20-19) and focused the match to a millimeter question. Morawski was multiplying and the outside launch of the Poles made a lot of pupa. Spain, as against Brazil, had gone astray again in the second half.
Then, Entrerríos emerged again, decisive in this World Cup start, which this time found the alliance of Ángel Fernández. Between the two they added four targets in the final stage. Sicko, who has a cannon in his right arm, tied his team to the game (25-25, minute 57), but a goal from the winger and the first hole in the duel for Cañellas, another member of the old guard to the rescue, they finished surrendering to Poland.
Poland, 26 – Spain, 27
Poland: Morawski (P), Sicko (6), Moryto (5, 4 pen), Dawydzik, Czuwara (1), Majdzinski (3), M.Gebala (3), Pilitowski, Olejniczak (3), Daszek, Walczak (1 ), Chrapkowski, Krajewski, Przybylski (2) and T. Gebala (2).
Spain: Corrales (P), Pérez de Vargas (P); Entrerríos (5), Sarmiento, Maqueda (1), A. Dujshebaev (2), Cañellas (1), Morros, D. Dujshebaev (5), Solé (2, 1 pen), Gómez (2, 1 pen) , Fernández (5), Ariño, Figueras (2), Guardiola and Marchán (2).
Partials every five minutes: 1-2, 2-4, 5-7, 6-7, 8-9, 9-12, 11-14 – break – 13-18, 17-19, 20-20, 22-23, 24- 25 and 26-27.
Referees: Vaclav Horacek and Jiri Novotny (RCH). They excluded Olejniczak, Daszek, Sicko, M.Gebala, T.Gebala and Walczak for Poland for two minutes, and Morros and Guardiola for Spain.
New Capital Sports Hall.