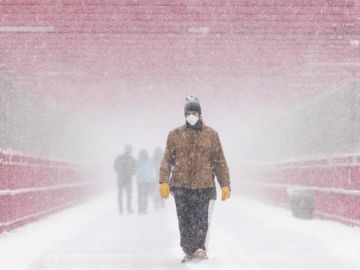 In U.S there is much concern about what is happening in Texas. The snowfalls have left without drinking water 12 million people. In some areas, the water is so frozen that even firefighters cannot put out this fire in the city of San antonio.
Two winter storms affect some 100 million people in its advance from Texas, in the south of the country, towards the region of New England, which includes several northeastern states, have left at least 26 dead and extensive power outages.
The arctic cold wave that covers much of the 48 states of the country has saturated the electrical power networks in Texas, Louisiana and Kentucky since Sunday, when temperatures fell to the lowest levels in decades.
So extreme are the weather conditions that on Tuesday they covered the 73% of the US territory, which have caused delays and suspensions in the campaign for vaccination against covid-19.
Closure of Covid vaccination sites
According to Federal Emergency Management Agency (FEMA), there are states that have reported the closure of immunization sites due to the storms and all appointments they had are being rescheduled for after the storm passes.
In the Texas cities of Dallas and AustinWith temperatures of -6º, snow and freezing rains were still causing traffic problems this Wednesday, while inclement weather warnings remained in effect from north Texas to W.V..
Shortly before noon about 3.4 million Texas residents were still without power, 159,000 in Oregon and another 100,000 in Kentucky.
In many parts of the country, where there have been blackouts to prevent the demand for electricity from exceeding the capacity of the network, the authorities have recommended that the population boil the water before consuming it due to the possibility that there is not enough capacity to process it. and make it drinkable.
Commercial airlines have canceled at least 4,037 flights and have reported delays in the departure of another 2,281.
At the same time that the first of the two winter storms continued its course towards the northeast of the country, a second was precipitating this Wednesday over Texas; both systems have left a snow accumulation of more than 15 centimeters since Arkansas to the central region of the Appalachians.
For today, the National Metereological Service (NWS) has forecast ice accumulations in some parts of Texas, Louisiana, Arkansas, Mississippi, North Carolina, and Virginia.
In Jackson, Mississippi, the city has closed offices and in most of the state educational activities, from day care centers to universities, have been suspended.