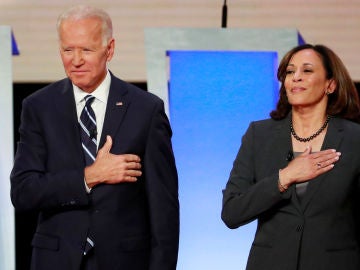 Everyone will be watching this January 20 of the inauguration of Joe Biden as the 46th president of the United States as it will be one of the most unusual inauguration ceremonies yet. Following the assault on the U.S. Capitol on January 6 by exalted supporters of Donald Trump, as well as the public ban and with reduced capacity due to the coronavirus pandemic, the act of taking office will be very different from those that were known so far.
But to that, we must also add that the outgoing president, Donald Trump, will not be present at the event, something that had never happened before in the history of the country, since it is tradition that the president who leaves office, of the welcome to the new: "To all who have asked, I will not go to the Inauguration on January 20," he published on his Twitter account days before the social network suspend your account permanently for "incitement to violence".
Who will also make history from Wednesday will be Kamala harris, which will become the first female, black and of Asian descent, in acceding to the position of Vice President of the United States. Harris will be sworn in just before Biden, both with his hand on the Bible and before US Supreme Court Justice Sonia Sotomayor, the Court's first Hispanic judge.
The ceremony, in which there will be a strong police armor to avoid altercations, since only in the vicinity of the Capitol and the White House it is expected that some 25,000 members of the National Guard will be prepared to take action. The inauguration will be held this Wednesday, January 20, around 11:30 local time from the East coast (5:30 p.m. in Spain)
The recommendation made by the organizers of the ceremony, which is expected to comply with biosafety protocols, is not to attend or travel to Washington, appealing that the event will be broadcast to see it on streaming online through the Presidential Inauguration Committee or other channels that broadcast the event. In Spain, through the Antena 3 Noticias website you can also follow live the last hour on the inauguration and every detail of the event.
From the committee they have announced that Lady Gaga will be in charge of singing the American national anthem and Jennifer Lopez will perform an artistic number in the east wing of the Congress, where the ceremony will take place. In addition, another activity planned for the day is that former Presidents Barack Obama, George W. Bush and Bill Clinton accompany the already President Biden and Vice President Harris to Arlington National Cemetery for a ceremony at the 'Tomb of the Unknown Soldier'.