It is no secret to anyone that this Christmas will be totally different. Once again the pandemic will be the cause and for brands there is no choice but to find new ways to activate consumption at a time when the economy and consumption are suffering the effects of the health emergency.
In principle, we have seen how many firms decided to advance their end-of-year strategies to begin to generate expectations. At the same time we have seen how many others have decided to move away from traditional messages to conquer a consumer who, although he will measure his expenses, expects to spend in a particular way towards the end of the year holidays.
The interesting thing is to understand what the consumer will spend on and some figures for the Mexican market are clear in this regard.
As we shared it recently, 1.9 percent of the people in Mexico spend more than 15 thousand pesos during this celebration, while more than a quarter of the people indicate that they will spend between 2,500 and 5,000 pesos in Christmas.
In this sense, data from the Strategic Communication Cabinet indicate that said spending is concentrated, in principle, on the traditional Christmas dinner, for which almost 45 percent of consumers say they allocate more spending: gifts represent the second largest spending reported by people, with 21.3 percent. Just behind gifts, clothing for the season, with 11.6 percent of mentions, is present as the third important expense and finally, within the top 5 of main expenses is the purchase of toys for children as well as the purchase of Christmas decorations for home decoration.
Although in various proportions and magnitudes, this behavior tends to spread throughout the rest of the world and brands have begun to generate strategies to be in the consumer's pocket.
In particular, and despite the fact that the launch of seasonal products is a constant year after year, for this 2020, special editions seem to be the great bet of many brands to start the end of the year and with this in mind, we share some examples that, in a special way, attract attention:
Apple pie flavored soft drink
In celebration of Thanksgiving, Pepsi is temporarily releasing a quirky new soda flavor: apple pie.
Under the name Pepsi Apple Pie, this product will have a touch of cinnamon, the flavor of the pie crust and the freshness of a freshly cut apple, a combination that will be present in a single batch of just 1,500 two-liter bottles that will not reach point of sale.
To get this peculiar product, users should share from social networks their "garrafaal" versions of apple pies using the #PepsiApplePieChallenge on Twitter or on TikTok. The first 1,500 accounts to meet the aforementioned requirements will be the ones that will be able to keep this special edition.
Clothes that look like ¿Sabritas?
To celebrate the holidays, Frito-Lay's (known in some markets as Sabritas) has launched a new online store, in which in addition to allowing its users to buy its renowned sandwiches, it will now add a variety of gifts and clothing featuring logos and themes of some of its brands.
Items in the brand's Christmas store include scarves, hats, sweaters and other seasonal products that play the Cheetos, Doritos, Tostitos, Lay's and Smartfood brands. Each purchase includes a bag of the corresponding snacks.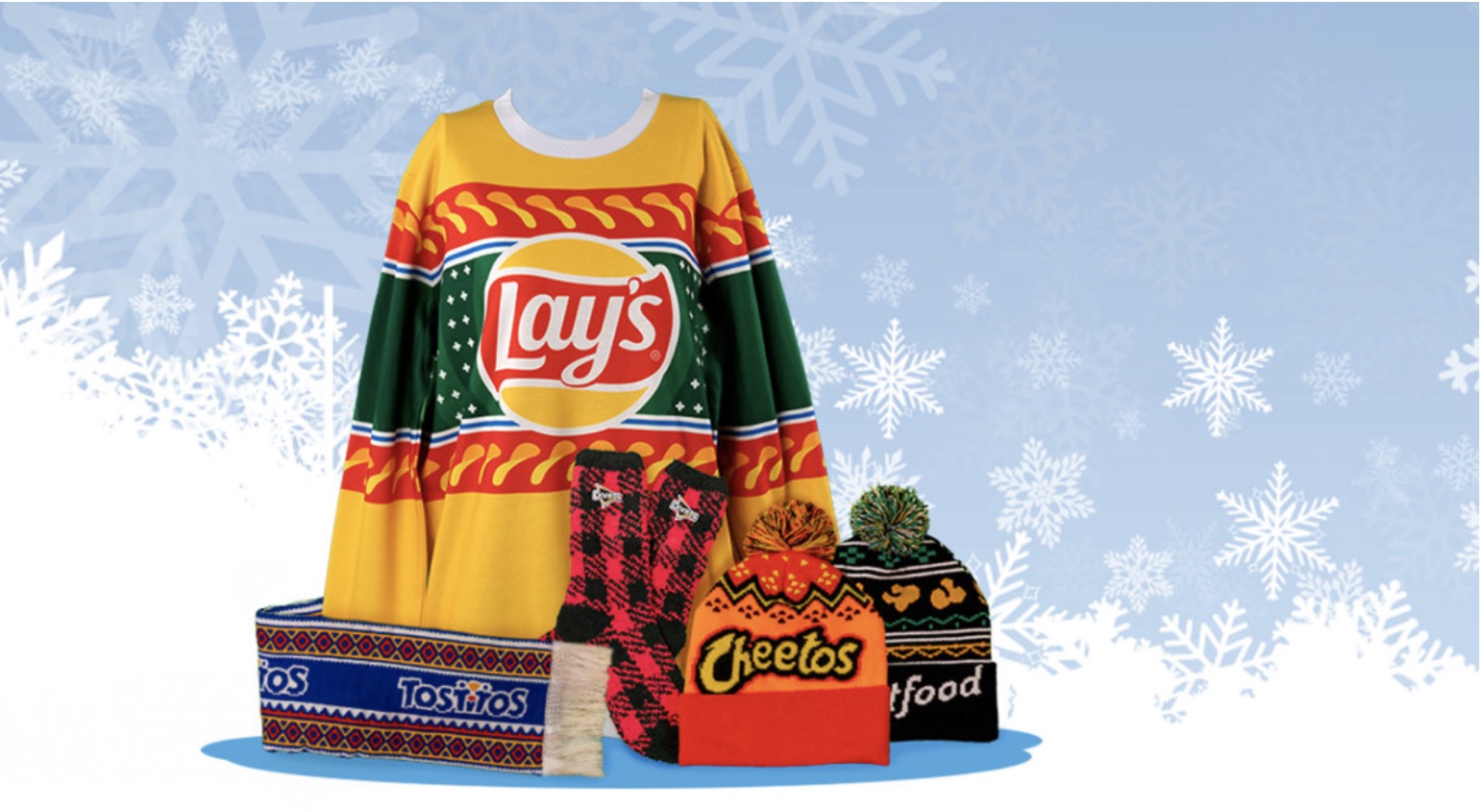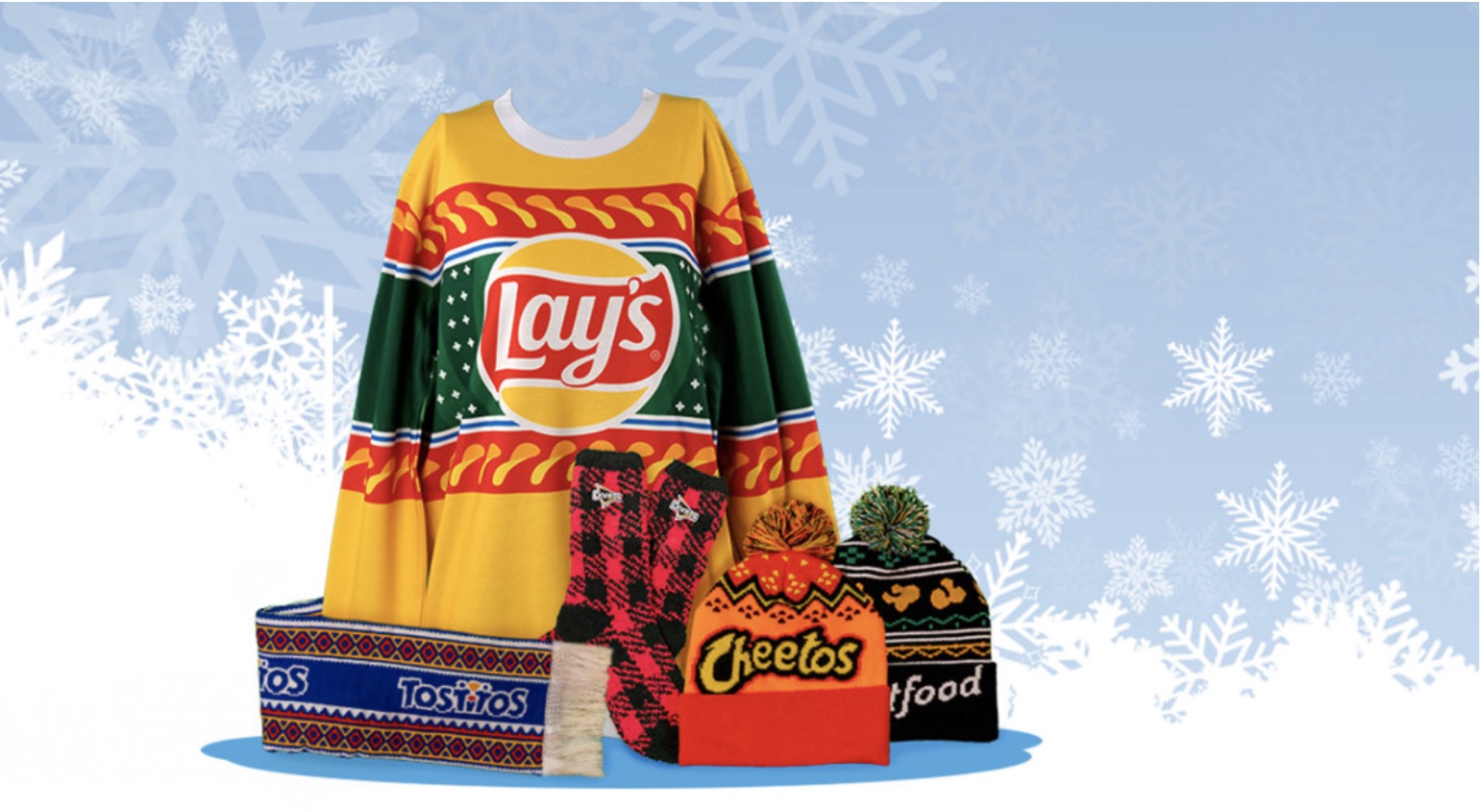 Logs with the smell of fried chicken
For the past two years, KFC has celebrated Christmas by releasing logs with their distinctive fried chicken smell. This initiative that has been launched by the Enviro-Log company repeats for the third consecutive year, so those consumers who want this peculiar product will have to pay $ 15.88 for each log.