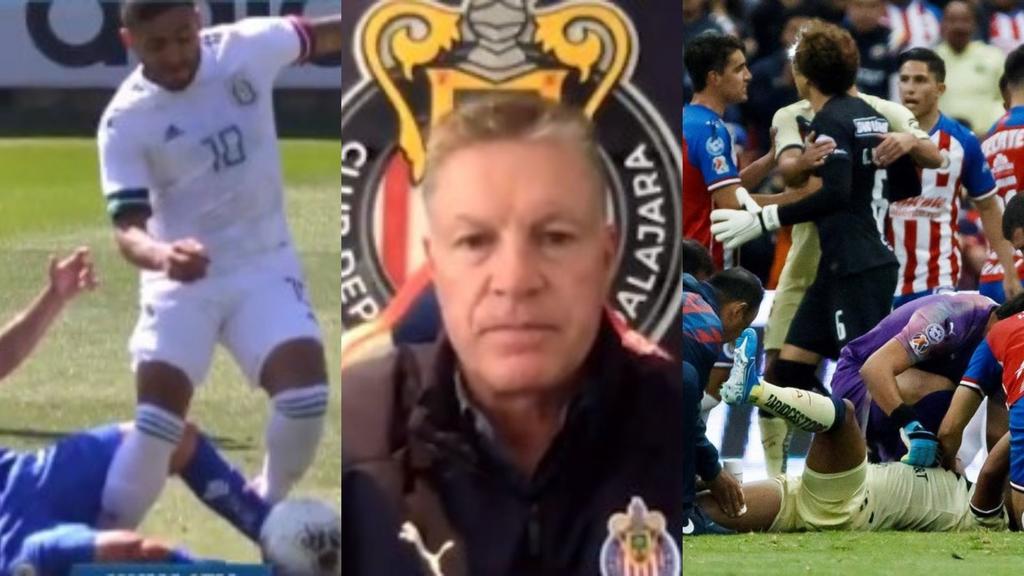 After Ricardo Peláez launched the request to disqualify the Cruz Azul player, Ignacio Rivero, after ensuring a clear intention to hit Alexis Vega in a play that left the Chivas forward with a right ankle injury and six weeks out of the fields, in social networks the users remembered Antonio "Pollo" Briseño.
A large majority of users responded to Peláez's anger by showing the images of the 2019 National Opening Classic when a strong entrance from Briseño ended up making a hole in Giovani Dos Santos' right thigh with the booty, for which he had to be intervened surgically and take six weeks of recovery.
In this case, the sanction for "Toño" Briseño was two games for being guilty of serious foul play and two additional games determined by the Disciplinary Commission.
Taking these facts into account, the netizens reminded Ricardo Peláez that when this happened, the club did not see any ill intention from "Pollo" towards "Gio".
"What would Peláez have asked for on this play? Under his clumsy arguments, he would surely have asked for disaffiliation and the death penalty for "Pollo" Briseño "," When they do (Briseño to Dos Santos, for example) they say there is no intention, when they do they say it was "bad milk "When it is clear that it was not like that", "The Briseño chicken almost broke Gio's leg and they say it was not bad milk hahahahahaha", are read in some of the comments that created the Briseño trend on Twitter.
Here we share some of the reactions of social networks on the subject:
What would Peláez have asked for on this play?

Under his clumsy arguments, he would surely have asked for disaffiliation and the death penalty for "Pollo" Briseño. pic.twitter.com/hQ4P2bYaYf

– The Expelled (@losexpulsados) November 16, 2020
Was Briseño disabled when you removed Giovanni's marrow?

– ¶ (@ FJFS29) November 16, 2020
The butcher of Pollo Briseño watching Peláez requesting the disqualification of Ignacio Rivero … pic.twitter.com/pENCRVjEKy

– Espitia (@ JessEspitia7) November 16, 2020
No mames, I did not see the complete video that Peláez asks for the disqualification of the Cruz Azul player, don't screw me, he even took the ball, it is not even a strong tackle like the ones that the Briseño bastard is used to.

Fuck Silly Clumsy.

– Emmanuel 3️⃣ (@ Campechame42) November 16, 2020
👍 I like it 😍 I love it 🤣 funny 😮 surprised 😡 angry 😢 sad