My Cinemex Gamer Room arrives de hand in hand with Arena The Place to Play, a concept that could be the solution for cinemas.
The concept contemplates that a room for 8 players can be rented for 2 hours.
Of the more than 7,000 theaters, 3,988 are from Cinépolis and 3,055 from Cinemex, according to Canacine.
Industry movies is one of the most affected by the contingency, the tickets stay in the box office and instead of lamenting the fact that people prefer to take care of themselves by staying at home, Cinépolis and Cinemex they undertake new business models.
Competitors face the new conditions with their own styles, and this time Cinemex will do so under its popular idea of ​​renting movie theaters to attract more visitors, as a way to offer exclusive places not to watch movies but to play. video game, so it was probably what they lacked to give him that unexpected bonus.
The prices of the rooms, after the Mi Sala Platino concept, vary depending on the type of complex and range from 470 pesos for 10 people, 655 pesos for 15 people, 840 pesos for 20 people and 1,210 pesos for 30 people.
They have been successful in this project and this can be seen by expanding the entertainment experience at their premium and traditional resorts across the country. Now, together with Arena The Place to Play, present Mi Sala Cinemex Gamer, where you can rent a room for 8 players for 2 hours, to be able to play video games from different consoles such as Xbox, PlayStation, Nintendo Switch and the new Xbox Series X and PlayStation 5 consoles, on a giant screen.
The idea is promising especially if it is considered that the industry of gamers is booming, to the point that they spent $ 10 billion during March alone, 11 percent more compared to the same month in 2019, according to Nielsen's SuperData.
In addition, it can be played in free format or tournament format, the games that will be available are:
Super Smash Bros Ultimate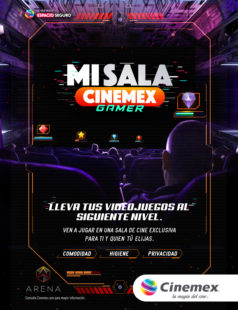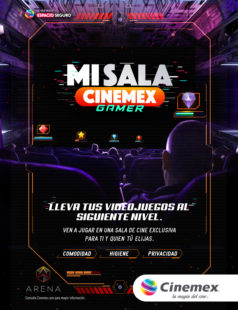 Street Fighter MK 11 Marvel VS Capcom Injustice 2 Dragon Ball Fighter Z FIFA 20 Mario Kart 8 Deluxe Mario Party Arms Pokemon Tournament PS VR Rush of blood Beat Know
This begins specifically in different rooms of the CDMX, in Premium Artz Pedregal, Delta Park, Lindavista, Universidad and Reforma 222. And soon it will arrive nationwide in Carso, Cuernavaca, Premium Metepec, Premium Querétaro, Premium Pachuca and Premium Alaïa.
We recommend you:
This concept was replicated at Odeon Cinemas. The chain of cinemas offers people the opportunity to install their video game or movie equipment in one of its places and it is not the only one, also AMC, that had already started renting its screens for only $ 99. So in the absence of visitors, you can rent a giant screen at a fraction of the cost they would charge to buy a giant projector, which would be perfect for a FIFA tournament, for example.
And Cinemex goes further, also refugees in sports, putting NFL games with giant screens, live HD broadcast and stadium atmosphere in the company of only friends in a safe space. This given the need for spaces, since very few can attend the stadiums.