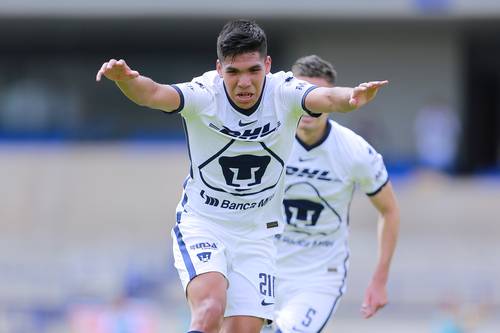 ▲ The youth squad Emanuel Montejano, 19, debuted yesterday with the university students and scored the last goal of the match Photo JAM Media
From the Editorial Office
La Jornada newspaper
Monday, January 18, 2021, p. 3
The Pumas sharpened their claws to get their first victory in the Guardianes 2021 tournament by beating Mazatlán 3-0 at the Olympic University Stadium. With the victory, the cats reached four units, while the team led by Tomás Boy was left with three.
The cats only took 11 minutes to open the scoring with a shot from Facundo Waller, while Carlos Gutiérrez increased the lead to 61 with a goal and the youth squad Emanuel Montejano had a dream debut in the first division by nailing the third goal at 70.
Andrés Lillini, helmsman of the auriazules, only made one move in his starting line-up by sending Juan Manuel Iturbe as the starter. Unlike the first day, the cats were energetic and managed to reflect their dominance on the scoreboard.
Before a team from Mazatlán without clarity in its lines, the goal came quickly for the locals. Alan Mozo sent a pass to Facundo Waller, who fired with a left foot inside the area to rock the nets.
The goal gave Pumas security, but minutes later he lost one of his key men when Juan Ignacio Dinenno came out in the 19th minute due to a muscle discomfort. Lillini turned to the quarry and sent 19-year-old Emanuel Montejano onto the field.
Despite the unexpected change, the cats remained on the prowl. Juan Iturbe finished off a corner kick that went wide with a popcorn while Nicolás Freire launched a header that went over the goal.
Mazatlán was slow to attack, until Camilo Sanvezzo sent a deflected shot. Efraín Velarde launched the most dangerous shot with a ball that hit the crossbar.
The rhythm dropped at the beginning of the complement, but the auriazules regained their ferocity and scored the second goal. Carlos Gutiérrez leaked only into the area and fired a shot to reach the networks.
The Sinaloa squad was tied up, while Tomás Boy watched the match angrily. The scoreboard seemed doomed, but Pumas still dared to unleash a third blow.
Montejano rescued the ball inside the area after a corner kick to launch a powerful shot and reach the goal. There was no more, although Mazatlán tried to wake up, the auriazules already only defended the victory calmly.
At the end of the meeting, Lillini said that they will evaluate Dinenno's situation and will not pressure the board for a reinforcement, maintaining that he trusts Montejano. It is not debut to debut, the most important thing in this process is to consolidate them.
Later, Santos gave his first defeat to Tigres by beating him 2-0 at the TSM stadium and thus reaching six points. The Warriors took the victory with goals from Juan Otero (74 ') and Eduardo Aguirre (80'), while goalkeeper Carlos Acevedo had an outstanding performance by stopping a penalty from Carlos González.