Sony Playstation 5 :
lately we are witnessing certain rebirth of the predominant graphic style in the games of the first PlayStation: We have seen it above all with independent developments related to terror, which has even led indie authors to publish compilations of the genre, and now it is the turn of a commercial project that will launch soon on PC. This is Compound Fracture, a first-person shooter game against dinosaurs that already has its own page on Steam.
The main author of this curious video game is Austin schaeffer, which in fact has been the one who announced its launch on Steam through his personal Twitter account. He has done so with a message that is accompanied by a video of his gameplay thanks to which, although it is a work in progress, we can get an idea of ​​how to be Compound Fracture: the gameplay makes it clear that we will play a dark first person shooter with limited ammo in which we will have to face fearsome pixelated dinosaurs.
I'm happy to officially announce Compound Fracture, our dino fps game. Check out some WIP gameplay footage and head to the Steam page to see the full quality trailer and give it a wishlist if you'd like. https://t.co/MWgb12TECL pic.twitter.com/0Y9z2HwGZJ Austin Schaeffer (@SchaefferAustin) February 16, 2021
A survival horror with dinosaurs in the style of the first PlayStation
And what is most striking about Compound Fracture is precisely its graphic style in three dimensions with a system of shaders that emulates the rendering technique of the first PlayStation games. It obviously includes certain modern touches that it takes advantage of as it is being developed in 2021, such as the lighting that is displayed when launching the flares, but in general it mimics the aesthetics of the games of the 90s quite well.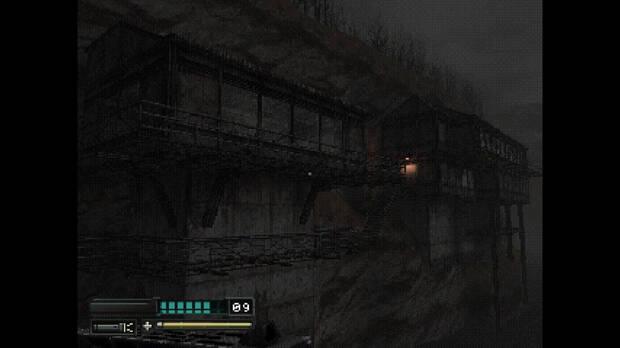 Its author defines this game, in reality, as a survival horror first person, which takes him away from being a spiritual substitute for the beloved Dino Crisis (something that Instinction is already trying to do, a new independent game that bets on photorealistic graphics). The plot of Compound Fracture will lead us to explore an abandoned oil facility with several differentiated areas where we will find these impressive creatures that will not make it easy for us.
As we said before, Compound Fracture coming to PC via Steam coming soon. Its launch on other platforms is not confirmed.