Sony Playstation 5 :
Recently there has been an intense debate about the price of video games as a result of Sony having started selling some of its exclusives for 80 euros or that companies like 2K have announced an increase in the cost of their next titles.
However, there is a market in which these figures are nothing compared to the price that some games can reach. We are talking, of course, about market for retro games or rare editions of video games for which thousands (or hundreds of thousands) of dollars can be paid for a unit.
Without going any further, last Friday the world record was broken with the sale of a video game since Heritage Auctions has sold one fully sealed copy of Super Mario Bros. 3 (the game for the NES that was released in 1990) for an amount of $ 156,000 after a lively auction with 20 collectors interested in getting this copy of the game.
"The lot opened with a bid of $ 62,500 with 20 bidders interested in acquiring the game, causing the final price to skyrocket to a world record," says Valarie McLeckie, Head of Heritage Auctions. "What makes this copy even more special is the card design itself as it is extremely rare to see copies with the word Bros. placed on the left".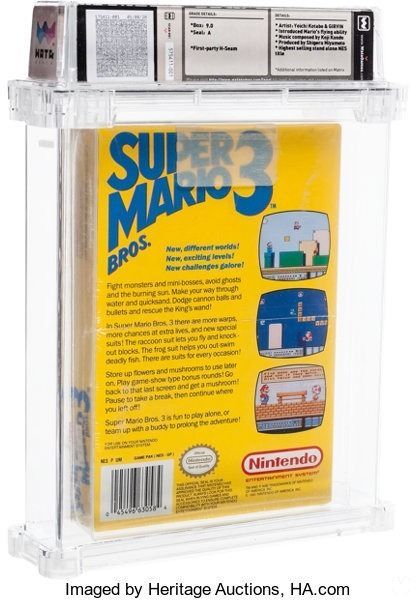 The previous record was held by another Super Mario game
This sale of Super Mario Bros. 3 exceeds the world record that was set last July in which a buyer paid an amount of $ 114,000 for another Super Mario game, this time for a sealed copy of Super Mario Bros. the first plumber's game for the NES to be released in 1985.