Sony Playstation 5 :
Resident Evil 8: Village has got players going crazy with the latest preview shown, announcing the presentation to be held tomorrow January 21 at 11:00 p.m. (Spanish peninsular time). In addition to meeting the famous vampire, we will have the opportunity to know more about the gameplay of the title and its history. But it seems that one of the features that the Village also offers has already been discovered: include some kind of multiplayer function. This is how appears labeled the game on the Steam DB portal.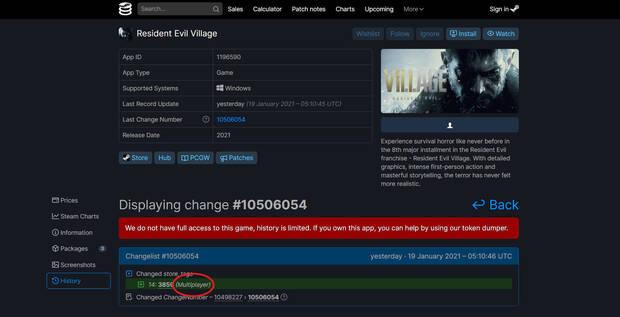 Resident Evil 8: Village may include multiplayer features
According to Capcom's game page on Steam DB, the game page tags in Valve's store were recently changed to add multiplayer tag. Capcom has not confirmed anything about it yet, but if it is true that we will have this type of feature in the Village, we are sure that Tomorrow the company will clarify everything during the presentation.
How likely is it that Village will include a multiplayer feature? At the moment, and with the information that is handled from the game, it is an option that is very possible but there is nothing confirmed. In a leak that took place in November, it was mentioned that Village will have an online mode called in code Dominion (goes PC Gamer), but his real name or what exactly it consists of is unknown.
Tomorrow, January 21, we will enjoy a presentation of the game, and on the 28th the beta of the multiplayer game begins
It should be noted that last week Capcom also opened subscriptions for the closed beta of what appears to be a Resident Evil game that supports 4-6 player games. In any case, both this Resident Evil multiplayer as Resident Evil 8: Village will be shown tomorrow in greater depth tomorrow, January 21. At this time Capcom has not shared any information about the beta game, whose testing phase will take place between January 28 and 30 – You can take a look at the schedules here -.
Resident Evil 8: Village, a twist on terror
Players are back in the shoes of Ethan, the protagonist we met in Resident Evil 7. This time, we will accompany you through the mysteries and terrifying secrets that they hide in a desolate village. Capcom's title promises Take full advantage of the power of the PS5 and Xbox Series X / S consoles, offering great realism and immersion in these chilling environments. So far we have been able to enjoy a gameplay in addition to the trilers presented, and although it is planned for release on PC and next-gen consoles, Capcom is not ruling out the PS4 and Xbox One versions.