Sony Playstation 5 :
PS5 has left today in Spain and immediately has been exhausted both the first and the second consignment, which will not begin to be sent until December 15. Sony's next-gen console is virtually impossible to find at this time on its first day on sale, that's why speculators have started making their own on the internet.
If already when it was launched in other countries we saw how the prices of PS5 in resale go up to 5000 dollars, in Spain we have not been left behind and applications such as Wallapop They have already been filled with second-hand and unopened consoles, but at exorbitant prices. Taking a look at said trading platform we find people selling their PS5 for up to 2000 .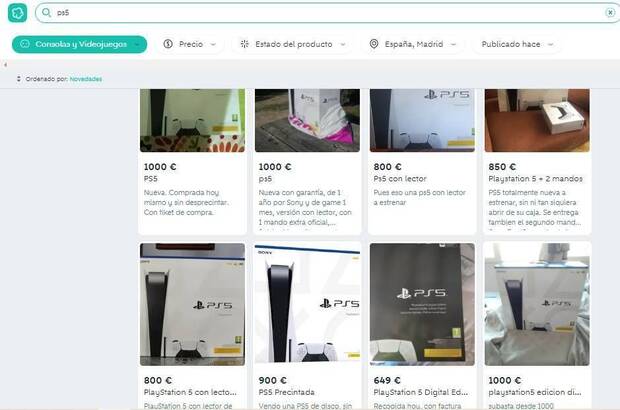 Although there are some who have come up putting a price on the new console, Most of the PS5 that we find in this application ranges from 800-900 , almost double what it actually costs and at other thrift stores such as CEX, consoles are also being sold for 800: it should be remembered that although it is difficult to find, PS5 goes on the market with an official price of 499 for the standard version and 399 for the Digital Edition.
PS5 stocks are so long gone that even there are people selling console pre-orders for the second wave, that one that arrives on December 15th. The new consignment could be found today in stores such as FNAC, El Corte Ingls or Game, but not so that it will arrive shortly at the homes of the people who have acquired it, but so that it can be shipped in the middle of next month. As we said, that second batch it is also already exhausted.
When will there be more PS5s?
Everyone is asking the same question today: when will there be more PS5s? In principle, and according to our sources, the week of November 21-25 there will be a new batch of consoles, although there will be very few available in those days. Jim RyanThe head of PlayStation recently said they expected to release more PS5 units both before and after Christmas, although he did not specify exactly when they will be available.
If you are one of the lucky ones who already have one at home, you may be interested in reading our PS5 guide, if not, we will tell you in our review what we think of the new Sony console.