Sony Playstation 5 :
The Season 5 the way My team NBA 2K21 has already started on all platforms. With the title of Era de Hroes, basketball simulator players will find content that pays homage to the stars of the basket in format superhero, facing the basketball players of the Modern age with those of the Golden age.
Players will be able to access new Challenges that will unlock Ancient Rewards and hero themed cards of basketball that will allow them to get new heroic players. In addition, players can build your own superhero, a process to begin by redeeming the LeBron James Evolution card available to all, and to continue throughout the season as schedules are completed for evolve superhero from Sapphire to Diamond.
30 Hero Cards: 15 from the Golden Age and 15 from the Modern Era
There will be in total 30 hero themed cards, 15 of them from the Modern Era of North American competition (basketball players like Luka Doncic and Mitchell Robinson) and 15 others from the Golden Age (such as Big Fella Shaq and Manu Ginobili). The cards will be included in sets that, when completed, will unlock a "super special" reward, according to a press release from 2K Games, to be announced soon. Also, those who reach level 40 can get the Admiral David Robinson's Galaxy suit card. To all these names we must add the card Pau Gasol suit Galaxia, available as a grand prize for Limited in the season.
In addition to the new players from The Exchange (including Larry Legend and Khris Middleton), the new personal challenge focused on Michael Jordan's career, and the grand finale of the My Team tournament, Season 5 includes other novelties that you can review on the official 2K Games blog.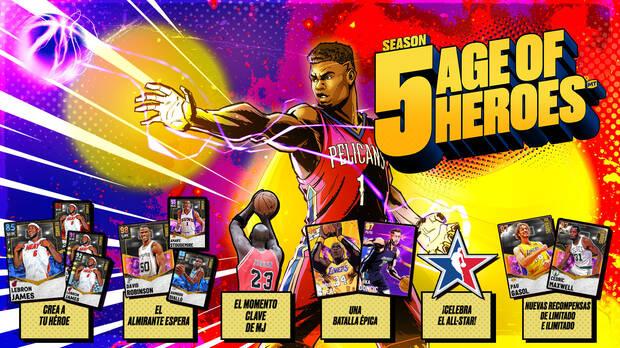 NBA 2K21 is available in PC (Steam), PS4, Xbox One, Nintendo Switch, PlayStation 5 and Xbox Series X / S; versions for the new generation of consoles include exclusive content and playable enhancements that we reviewed in our review.