Sony Playstation 5 :
GameStop shares have skyrocketed in recent hours and yesterday it achieved historical highs for this chain of video game stores, rising up to 400%. The reason for this is not the good sales of the consoles – the new generation is out of stock – but a curious trolling of the WallStreetBets subrredit. GameStop shares, which in 2007 were worth just over $ 62, have been below $ 10 for almost all of 2020 – including a historic low of $ 3.5 – due to the crisis in this physical retail sector. , aggravated by the COVID-19 pandemic; yesterday however closed with a value of $ 147.98.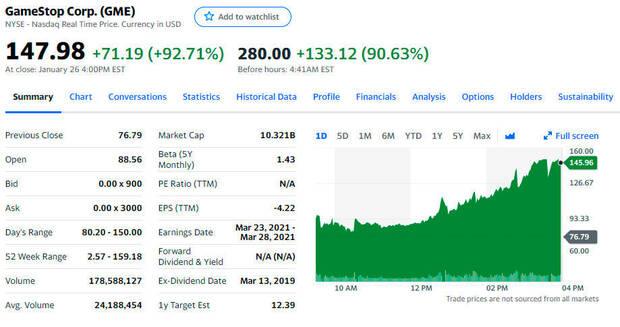 GameStop's dangerous situation changed last August when Ryan Cohen – founder of a pet food store, Chewy – bought a large number of shares that rose in price. After becoming the most important private investor, he put pressure on the managers to turn the direction of the company: in his letter he spoke of how GameStop suffered for those who had taken short positions, the so-called shorting. This month, Cohen joined the board of directors, posing a threat to those who were speculating on these actions, forcing a vicious circle to buy shares at prices that, for this interest, began to rise.
Go short (short)
To understand what happened, it is necessary to explain that, compared to the classic way of making money in the stock market by buying shares at a price to sell them later at a higher price -go long or long in English- you can also make money if you sell a stock. and you buy it later at a cheaper price because you expect the price to be falling. To carry out the operation, someone has to lend the stock – typically the broker – with interest: for example, you ask for the loan at 10 euros and if everything goes according to plan, lower the price, buy it cheaper and return it to the broker.
The point is, this is where the WallStreetBets subreddit came into play, with more than two million members who brag about cheering stock trading fevers at leisure. When Citron Research posted a message predicting that the value would fall to $ 20, they saw an opportunity on WallStreetBets to "fight" Wall Street: decided not to sell or buy shares, and since there is a great demand, the price rises, the funds cannot buy shares. What started out as fun has ended up influencing the market, with $ 1.6 billion in losses to short sellers.
Tomorrow am at 11:30 EST Citron will livestream the 5 reasons GameStop $ GME buyers at these levels are the suckers at this poker game. Stock back to $ 20 fast. We understand short interest better than you and will explain. Thank you to viewers for pos feedback on last live tweet— Citron Research (@CitronResearch) January 19, 2021
It is not known how long the shares will last at this price, but billionaire Elon Musk echoed the news, which has helped the anecdote appear on the main economic portals. Yahoo Finance for example believes that this value will not be sustainable when WallStreetBets finds other interests, but it remains to be seen how the situation is resolved since this It is the first time in years "that all WallStreetBets members are making money", according to moderator Bawse1.
Gamestonk !! https://t.co/RZtkDzAewJ— Elon Musk (@elonmusk) January 26, 2021