Sony Playstation 5 :
* Sponsored content.
Marvel's Avengers coming to PS5 and Xbox Series X / S next March 18 taking full advantage of the new machines from Sony and Microsoft: they will have graphical improvements, improved performance and the possibility of maintaining the progress that you have already achieved in previous consoles. Before its imminent launch, GAME has opened the purchase and reservation of this game both in its network of Spanish physical stores and in GAME.es.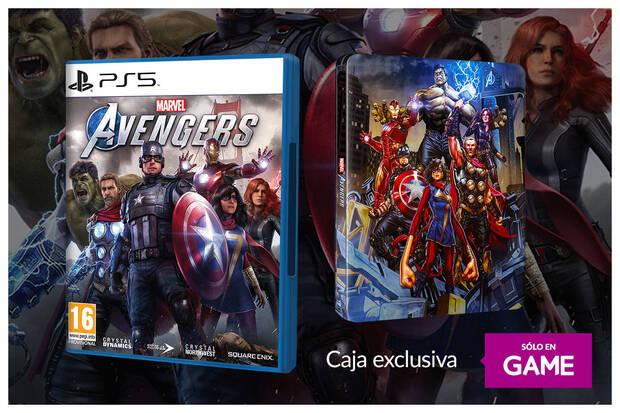 Metallic gift box for the purchase of any edition of Marvel's Avengers
As usual, those who buy or pre-order Marvel's Avengers at GAME will receive a gift, which this time is a exclusive metal box, a steelbook designed by Mark Brooks, one of Marvel Comics most acclaimed cartoonists. This gift will be received both when you buy the PS4 and Xbox One version, now available and with a free next-gen update incorporated, as well as when you pre-order the PS5 and Xbox Series X / S version, which will be available from March 18.
Those who enjoy Marvel's Avengers on next-gen consoles may notice a graphical improvement that will affect their resolution so much that reach 4K on PS5 and Xbox Series X, and the 1440p in Xbox Series S, as in other aspects such as textures, drawing distance or the destruction of armor. At a technical level, they will perceive a general improvement, especially related to the SSD load speed of the consoles that allow to offer almost non-existent load times.