Sony Playstation 5 :
Demon's Souls Remake, which we can now enjoy in Spain exclusively for Playstation 5, consists of an updated version made by Bluepoint from the mythical game of FromSoftware. This remake thus becomes an exact replica of the original … except for one detail: a door which has become a real headache for gamers, and which was not present in the FromSoftware title. However, the speedrunner Distortion2 has managed to open the door, gain access to its interior … and take the mysterious object lying on the grave of a knight. You can discover his feat in the following clip.
The mysterious door opens for us
One theory prevailed among the gaming community about how to get the door open: Find Ceramic Coins, a new collectible of the game, for this door to allow us to pass. Holding on to this hunch Distortion2 spent hours collecting these coins after making the conjecture that it took just 60 coins to access whatever secret was hidden behind the door. Luckily that was not the case and only had to collect 30 Ceramic Coins. It should be noted that this streamer is the same one who managed to force the game to see what was on the other side.
After accumulating a whole pile of 30 coins, Distortion2 decided to try giving them to Sparkly the Raven, an NPC that players can trade items with. While with smaller amounts of coins this marketing did not have the desired effect, when Distortion2 gave him 30 coins, Sparkly gave him the key to the door. This way, Distortion2 was able to quickly approach the gate, use the key and voil! It opened the path to that gloomy garden that rests on the other side of the door.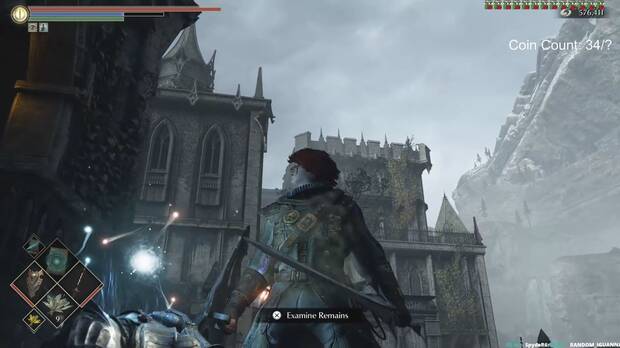 If we collect 30 Ceramic Coins and bring it to Sparkly the Raven, we will get the key to the door
Now comes the interesting: What is the object that was waiting for us on the other side of the door? Is about a whole set of armor inspired by the Impaler boss, which is located in this area and is new to the PlayStation 5 version. Although the whole enigma has reached this point, the truth is that it has been an experience for the community to investigate this mystery togetherSince the door was discovered last weekend.
But if what you like is solving this type of riddle, we warn you that players are currently investigating a strange sound that comes from the Nexus and many other peculiarities of the game, in case you want spend the weekend exploring every corner of Boletaria.
"Bluepoint Games re-signs one of the best remakes ever and the first great PS5 essential ", we wrote in our analysis. We remind you that Demon's Souls Remake is available on the new Sony console … where it was about to include an Easy Mode as well.