Sony Playstation 5 :
Far Cry 6, which will arrive with voices in Latin American Spanish, was scheduled to debut on February 18, 2021 both on PC and consoles of the past and new generation. But nevertheless, Ubisoft was seen in the obligation to delay both this game and Rainbow Six Quarantine for after April 2021. An update to the Microsoft Store may have shed a little more light on when we will be able to enjoy this title: Microsoft Store aims on May 26, 2021.
Far Cry 6 could arrive on May 26, 2021
Last month, the company Ubisoft had to be forced to delay the launches of Far Cry 6 Y Rainbow six quarantine until its next business year, starting in April 2021. The reasons for this delay are explained with the coronavirus pandemic, which forces workers to continue with their work from home, with the difficulties that this entails. In this sense, the French firm explained the change in plans relying on "production challenges related to working from home".
While the open world shooter game developed by Ubisoft Toronto, Far Cry 6, was scheduled to debut on February 18, 2021; Rainbow six quarantine, from Ubisoft Montreal, aimed to debut on March 31, 2021. Considering that Ubisoft's next fiscal year starts from next April, It would make sense that Far Cry 6 comes to us in the month of May.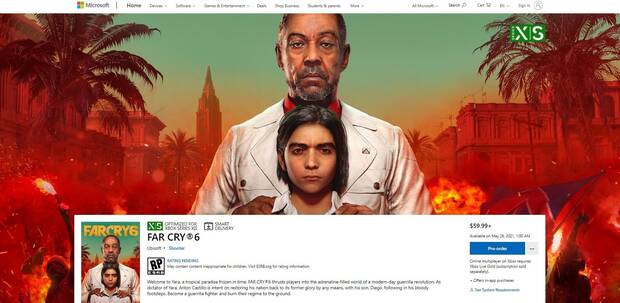 Microsoft Store Scores May 26, 2021 for Far Cry 6 Debut
Both titles are scheduled for release now in Ubisoft's financial year 2021-22, which begins April 1, 2021, "to harness its full potential in the context of the production challenges caused by Covid-19. "The delays were announced when Ubisoft released its earnings results for the second quarter.
In Far Cry 6, inspired by the Cuban guerrilla warfare, players step into the shoes of Dani Rojas: a member of the resistance who must lead a guerrilla revolution to liberate the fictional island of Yara, "a tropical paradise frozen in time", of the dictator Anton Castillo, embodied by Giancarlo Esposito (The Mandalorian, Breaking Bad).