Sony Playstation 5 :
Blizzard wasted no time and after announcing Diablo 2 Resurrected, the ambitious remastering for PC, PS4, Xbox One, PS5, Xbox Series X / S and Nintendo Switch of this legendary original PC action role-playing game, has just confirmed that it will have support for mods and has revealed what its minimum and recommended requirements will be in its compatible version.
Diablo 2 Resurrected requirements on PC
Just as you would expect, these won't be too high and practically any current PC should be able to move the program with some ease. You can check it out for yourself right below.
Minimum requirements
Processor: Intel Core i3-3250 / AMD FX-4350GPU: Nvidia GTX 660 / AMD Radeon HD 7850RAM: 8 GBRequired hard drive space: 30 GBResolution: 1280 x 720Operating system: Windows 10
Recommended Requirements
Processor: Intel Core i5-9600k / AMD Ryzen 5 2600GPU: Nvidia GTX 1060 / AMD Radeon RX 5500 XTRAM: 16 GBRequired hard drive space: 30 GBResolution: 1920 x 1080Operating system: Windows 10
Diablo 2 remastering
As we say, Diablo 2 Resurrected coming this year to PC, PS4, PS5, Switch, Xbox One and Xbox Series X / S. In addition to the original game, it will also include its expansion, Lords of Destruction, 3D graphics, the possibility of switching to a video mode with the original audiovisual section and cinematographic sequences remade for the occasion.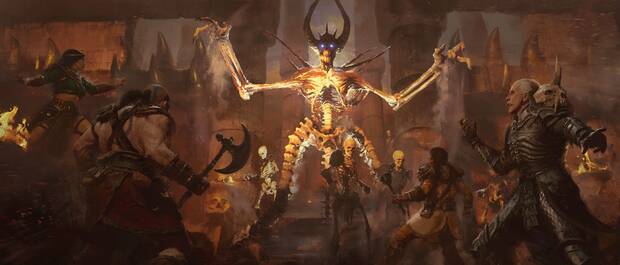 This it has not been the only news related to the Diablo saga which has left us this weekend, since during the celebration of BlizzConline it has been confirmed that this new version of the game will not replace the original one on PC. In addition, new details have been given about the operation of PvP in Diablo 4, the next and expected installment of the series, and it has also been confirmed that in this game there will be the rogue class, which returns from the original Diablo 1.