Sony Playstation 5 :
Mail Mole, the colorful three-dimensional platform developed by Talpa Games and edited by the Barcelona Undercoders studio, already has a release date: its premiere will take place on March 4 on PS4, PC and Nintendo Switch, while Xbox One will arrive one day later, March 5. In any of these platforms it can be purchased for the same price, which in Spain will be 14.99 euros.
In this cute game, the first commercial project of the recently released studio Talpa Games, we will explore every corner of Carrotland, a varied world in which the protagonist of Mail Mole, the postman mole moltyYou will be challenged by complicated challenges that will make it difficult for you to deliver your mail to all your neighbors: "Floating piers, quicksand, sharp spikes, bottomless wells – a difficult road," says the official description of this title.
A tribute to platforms in three dimensions
Mail Mole count on more than 30 levels riddled with platform challenges that its creators have designed drawing inspiration from the most popular games of the genre. We will have to jump at the right moment, dodge obstacles, run at the maximum possible speed and all this with a movement system that will make us see the mole Molty digging in the ground for most of the time.
In Mail Mole we will not only be rewarded when we manage to reach the goal, but also the time it takes to do it: if we do it fast we will get gold medals and, at certain times, we can compete against MechaTopos in fast-paced speed races. In addition, during the exploration of the scenarios we can find collectibles that are hidden in them, from hidden secrets to carrots that will allow us to unlock new outfits for Molty at Rick's store.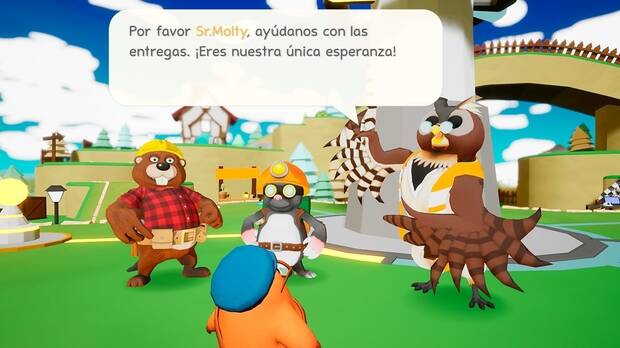 This first adventure of the postman mole is also the first big project of Talpa Games, a new development studio formed by university students. On this occasion have been sponsored by Undercoders, a more veteran team that we know from creating titles like Conga Master and SuperEpic: The Entertainment War.