Sony Playstation 5 :
Activision has detailed the game modes, weapons, maps, kill streaks and other new features coming to Call of Duty: Black Ops Cold War and Call of Duty: Warzone when Season 2 kicks off February 25 at both the Treyarch shooter and the Infinity Ward battle royale. The publisher has also published a trailer which serves as a summary, with some gameplay scene, of the announced content.
The Roadmap inserted below shows that there will be four new Operators: Naga: Warsaw Pack will be available from launch week and Maxis: NATO, Wolf: NATO and Rivas: NATO will arrive throughout the season. As for weapons, at launch the FARA 83 assault rifle and SMG LC10, and later they will arrive Machete (special), E-Tool (body to body), R1 Shadowhunter (special) and the ZRG 20mm (sniper).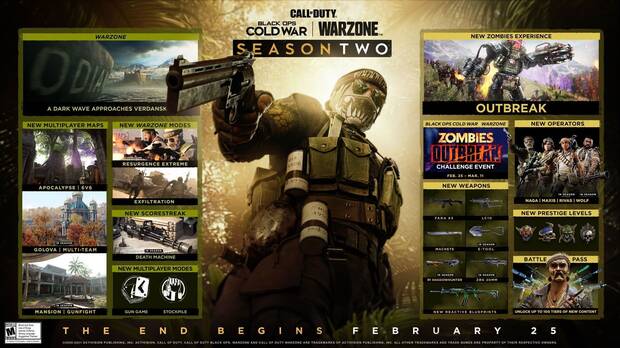 From launch day be available Apocalypse, a map set in the Lao region for six vs six player modes. As the season progresses, Golden triangle, set in the Russian village of Golova and suitable for multi-team modes; Miami Strike, a reduced, daylight version of the original map for six-versus-six modes; Y Mansion, located in Havana indicated for Shooting and Face Off.
To all this we must add three modes of game: Gun Game be available in the opening week of the season, while Stockpile 6 against 6 and Hardpoint (various teams) will arrive along it. Also added is a new reward of Kill streak, Death Machine, a minigun that can be used in multiplayer and in Zombies.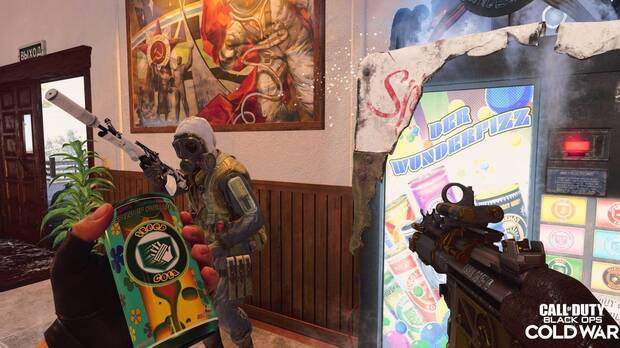 Zombies expands with Outbreak
The Zombies mode incorporates the new experience from launch Outbreak, which continue the story of Dark Aether and lead players through the Ural mountains to face new enemies, complete objectives, get rewards and discover information. There will be two new vehicles: a sedan and a light truck.
"Whether hunting elite enemies using a satellite tracker, escorting a Rover that detects dimensional portals or holding out against zombies in a confined Dark Eather area, Requiem's ​​agents will need to complete these investigations before they can leave … or risk entering a Dark Aether portal to a new region for more rewards. "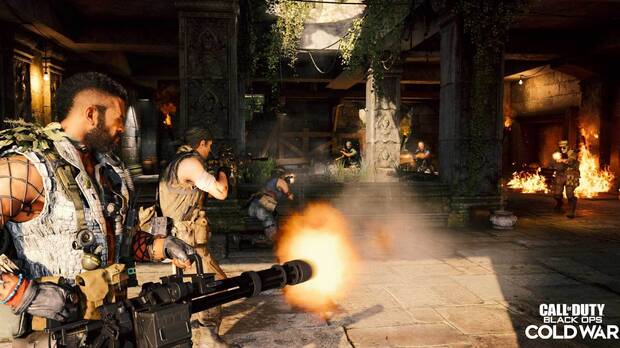 Changes in Warzone
Battle royale players will want to take a look near the Verdansk harbor area, where there will be a oil that can be explored and fast. "Meanwhile, inside Verdansk, something huge is beginning to rumble in the depths"says Activision.
The editor has revealed two modes game for Warzone. The first is Rebirth Island Resurgence Extreme, which varies the Resurgence mode to increase the number of players to 90; be available in the launch week of Season 2. The other, Exfiltration, get later: players will have to locate a portable radio and hold it for a certain time to win, but when they have it they will be marked on the map as Wanted. If no one gets the radio, the area will be closed and the usual rules are maintained.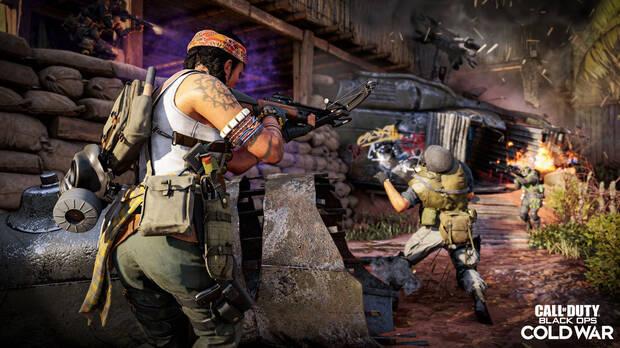 On the other hand, Activision will reveal the contents of the PBattle of Season 2 on February 23. Call of Duty: Black Ops Cold War and Call of Duty: Warzone are available in Spain and the rest of the world for PC (Battle.net), PS4, PS5, Xbox Series X / S and Xbox One.