Pau Gasol has signed for the remainder of the season for Barcelona. The pivot will charge the minimum established in the collective agreement for players aged 26 or over and the figure stands at 68,337 euros gross per season. The player will pocket the proportional part based on his contract date this income being reduced to an amount close to 30,000 euros.
These data contrast clearly with the earnings that the best Spanish basketball player of all time had earned to date. In 19 years in the NBA, Pau pocketed 225 million dollars, which is 185 million euros to change, with really lucrative contracts with the Grizzlies, Lakers and Spurs.
Not in vain, Pau is the player who has earned the most money in the history of Spanish basketball ahead of his brother Marc –which adds 148 million–, Serge Ibaka –98 million– or José Manual Calderón –70 million–. Gasol has agreed to sign this minimum contract to take shape for the Tokyo Olympics.
Pau's dream, for a long time, has been to emulate Manu Ginobili, who retired with the Argentine team at the 2016 Rio Games. The Japan appointment will be the last in which we see the '16' compete at the highest level except for a change of decision that is not scheduled.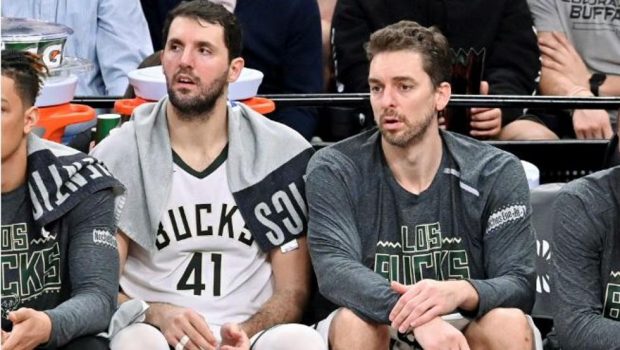 Mirotic, in 2019 with Pau Gasol in Milwaukee.
The player has agreed to sign for the Catalans because he aims to retire with a Euroleague in his record. His closeness with players and managers has been decisive for Pau to have taken the step. The player maintains a close relationship with the star of the team, Nikola Mirotic, with whom he shared a dressing room for the Chicago Bulls and the Milwaukee Bucks. On the other hand, the coach Sarunas Jasikevicius knows him perfectly, since they have shared a dressing room in his first time as culé, as well as the sports director of the section Nacho Rodríguez.
East Family climate has been key for Pau to decide to definitively forget about the NBA, although it was rumored for a time that he could retire wearing the Lakers jersey. The player now has an ambitious challenge to leave with several titles in his last dance in Europe.