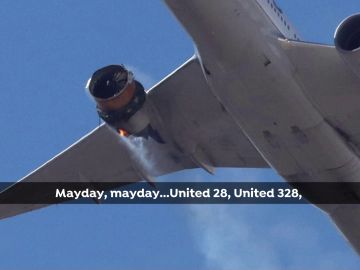 "Mayday, mayday …" the cries for help confirmed the danger and the moments of anguish experienced in the Boeing 777-200 plane that took off from the United States for Hawaii and that minutes after rising he saw his right engine catch fire.
Passengers report that the smoke prevented them from seeing the fire, so they all imagined the worst. At Flight 328 had 231 passengers and 10 crew members. Not only were they aware of the danger, but residents of the city of Denver could see how the plane with the burning engine flew over their houses. In fact the pieces of the aircraft were scattered in several kilometers around.
And is that despite the tension experienced the pilot managed to turn around and land emergency at the Denver airport without anyone suffering damage.
The Broomfield Police also asked residents not to touch or move the pieces that fell off the plane and invited residents to report the parts found in their homes to authorities.
Engine failures are rare but potentially dangerous whenever rotating parts pierce the outer casing, an event known as irrepressible engine failure.
In February 2018, a Boeing 777 bound for Honolulu suffered an engine failure when a hood came off about 30 minutes before the plane landed safely. The NTSB determined that the incident was the result of a fan blade fracturing its entire length.