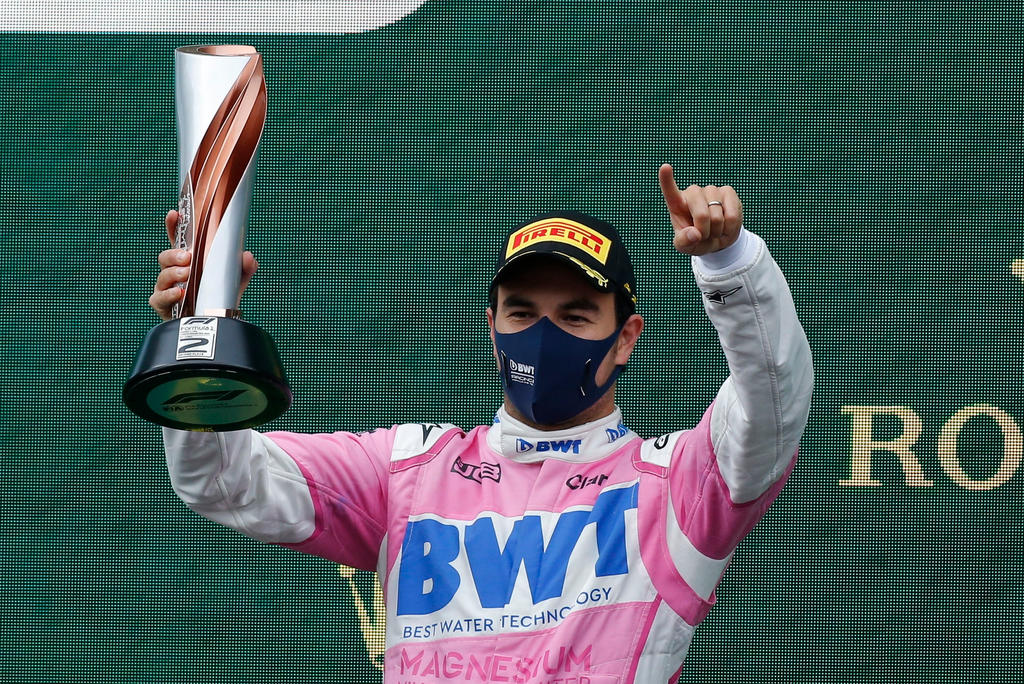 Two years, six months and eight days after doing it the last time, in Azerbaijan, the Mexican driver Sergio Pérez vindicated his enormous quality by once again climbing a Formula 1 podium. He did it, after an excellent performance, when he finished second in the Grand Turkey Award, at the Istanbul Park circuit.
Sergio, who missed both Silverstone races for testing positive for COVID-19, returned to the path of success, in his most difficult year. When it was announced that he will not continue in the team and with his future uncertain, the Guadalajara finished for the ninth time in the top three in a test of the motorsport honor division. Joining the party for Lewis Hamilton, who yesterday equaled Michael Schumacher's record of seven titles.
"Checo" started third on the track outside Istanbul, where he finished second in a race won by the English star and in which four-time world champion Sebastian Vettel was third.
YOUR BEGINNINGS IN F1
Pérez made his Formula One debut in 2011 for the Sauber team, finishing the campaign in 16th place with 14 points, but it only took two races, in his second season, again with Sauber, to enter the elite. "Checo" had a brilliant career in Sepang, in which only at the end he yielded to Alonso, settling for second place in the Malaysian Grand Prix.
That year he was on the podium twice more: he was third at Montreal and second at Monza.
The tapatío raced with McLaren the following season, and it did not go well, his best result was a fifth place in the Indian Grand Prix.
A FORCE INDIA
Pérez then signed for his current team, a team that was then called Force India and that from mid-2018 was renamed Racing Point.
The change came from pearls, because in the third race he returned to the podium again, finishing third in Bahrain, and finished tenth in the drivers' standings. The following year, in 2015, when he finished ninth in the World Cup, he captured a new podium, this time by finishing third in Russia.
2016 was a great season for the Guadalajara. He added 101 points and finished seventh.
That year, "Checo" added two more podiums, finishing third in Monaco and in the European Grand Prix, in the debutant Baku.
In 2017 he added exactly 100 points to finish seventh. But he did not get on the podium in a year in which he nevertheless only failed to score in three of the twenty races.
Azerbaijan became, in 2018, the only country in which the Mexican repeated podium so far in Formula One.
Already with the new property that had entered in mid-2018, a season in which the World Cup finished eighth; Last year Pérez shared garages with Lance Stroll (the skipper's son), in a transitional season, without podiums, in which he finished tenth.
HIS BEST SEASON
The 2020 season has been the best for the Mexican in his career, as he has scored points in all the races he has played, subtracting his two absences. At the moment he is fourth in the championship with 100 points in the absence of three competitions.
After shining in the first two races in Austria, in which he repeated sixth place, he finished seventh in Hungary, before the absences, but came back finishing fifth in Spain, and then, after finishing tenth in Belgium and Italy, rubbing the podium in Tuscany (Italy, where he was fifth), in Russia and at the Nürburgring (Germany, with two quarters). He finished seventh in Portugal, and three Sundays ago, at the Emilia-Romagna Grand Prix, where another strategy error prevented him from getting on the podium, finishing sixth.
Finally, he made it yesterday. On a circuit that returned to Formula One nine years later, the man from Guadalajara was one of those who best adapted to the slippery, recently resurfaced track. He started third and finished second. "Checo" waved the flag of Mexico again. And he claimed his ninth podium.
RACE
Pérez started third, but in the start he overtook Max Verstappen and got behind his teammate Lance Stroll, on a slippery and repaved circuit.
Hamilton moved into third place only to lose control and be overtaken by Red Bull's Alexander Albon and Verstappen. Vettel made a great move to climb from 11th to 3rd place, while Bottas spun and went off the track.
Vettel and Hamilton pitted to change tires on lap 9, followed by Stroll, Pérez and Verstappen three laps later.
The virtual safety car was activated on lap 13 after Antonio Giovinazzi pulled up to the side of the track.
When the race resumed, Hamilton tried to pass Vettel but blocked his tires, while Albon passed Hamilton and Vettel placed in 4th place.
The impatient Verstappen went too far to try to pass Perez in second place and lost control to run off the track twice. He pitted to change tires again on lap 19.
Halfway through the race, Stroll and Pérez were ahead of Hamilton but lost ground. Stroll came in to change tires on lap 37 and Hamilton used the DRS to pass Perez a lap later and take the lead.
Stroll's tire change backfired and he was soon overtaken by both Ferraris.
Pérez showed great tire management and opted for just one stop; On the last lap he was passed by Leclerc, but the Mexican reacted and passed the Ferrari driver again, who was then overtaken by Vettel, who reached the finish line very close to the Mexican.
SPEAK 'CZECH'
"It was all very crazy. I spoke with the team and I knew that if there had been one more lap the tires would have been ruined," explained Pérez.
"Fortunately, I was able to manage the tires well until the end and we were able to celebrate this great result, thanks also to the great work of the team," said the man from Guadalajara.
"Hamilton has been extremely strong. There was a moment, with Max (Verstappen) not seeing anything. Then I saw that he had gone wide," he commented.
"Then Charles (Leclerc) approached and passed me in turn ninth, but I was able to give him back the overtaking in 11, so I think we finished the day with a great result," he said.
"We have been very close to the podium several times this season, so it is wonderful to enjoy this special moment with the team," he said.
"It has been a very exciting and very difficult race at all times, until the end," he concluded.
100
POINTS
Sergio Pérez adds in the campaign, he is placed in the fourth position.
Sergio Pérez podiums
Year Place Race
2012 2 Malaysia
2012 3 Canada
2012 2 Italy
2014 3 Bahrain
2015 3 Russia
2016 3 Monaco
2016 3 Azerbaijan
2018 3 Azerbaijan
2020 2 Turkey
👍 I like it 😍 I love it 🤣 funny 😮 surprised 😡 angry 😢 sad