Rubén Jiménez, Netskope RBI Director of Engineering.
Netskopeannounces new key enhancements to your Netskope Security Cloud, with the RBI technology integration (Remote Browser Isolation or remote browser isolation) on its platform, which allows the company to reinforce its leadership in SASE and offer easy and secure access (zero trust) for all users.
Thus, after the acquisition last year of Randed, a Spanish insulation and security company, based in Madrid, Netskope now offers its own native RBI technology, integrated into its SASE platform.
"The integration of Remote Browser Isolation (RBI) into Netskope Security Cloud is another milestone in how Netskope is leading the way for the SASE journey, fostering Zero Trust access and helping companies embrace transformation projects. digital ", affirms Rubén Jiménez, Netskope RBI Director of Engineering. "This innovative RBI integration applied with a simple policy command lays the foundation to take advantage of the isolation capabilities in all other Netskope SASE components, including Next Gen SWG, CASB and ZTNA."
Isolation in a secure cloud
Netskope simplifies the use of RBI for required websites by using a policy of "isolation" within your secure cloud, providing a platform, a console and a policy engine to facilitate administration.
RBI technology targeted converts uncategorized and security risk websites (6-8% of all web requests) into streaming pixels as images to users. It also removes active scripts and potential web threats, thus protecting users from inadvertent downloading of malicious code by running a secure Netskope cloud web application – rather than downloading it to users' endpoint – without no interruption of user experience.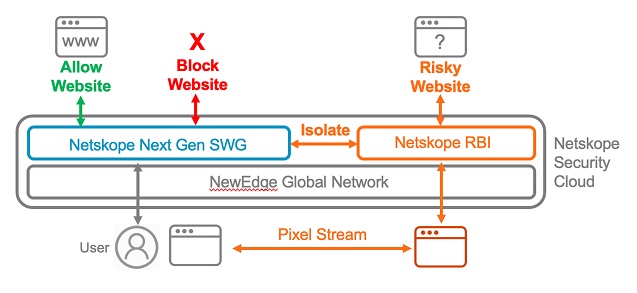 Netskope SASE RBI diagram.
Another key advantage of targeted RBI is blocking file uploads and downloads and disabling copy / paste / print activity for uncategorized and security risk websites, in order to reduce the risks of data loss and threats. Netskope's native RBI is fully built-in and integrated with "isolation" policy control for desired web traffic, eliminating the complexity of forward proxy configurations.
Finally, Netskope online inspection with TLS decryption includes user traffic for the web, managed SaaS services, Shadow IT applications, public cloud services, and custom public-facing applications in the public cloud. That is, all five lanes of user traffic in a SASE solution, with fully integrated defenses including RBI.
The vendor developed their RBI product for their platform by leveraging the isolation and security expertise and domain knowledge of an RBI-focused team since 2015, when they founded their Randed company. The acquisition of the Spanish firm also expanded Netskope's growing presence in Europe by adding a new R&D center in Spain.