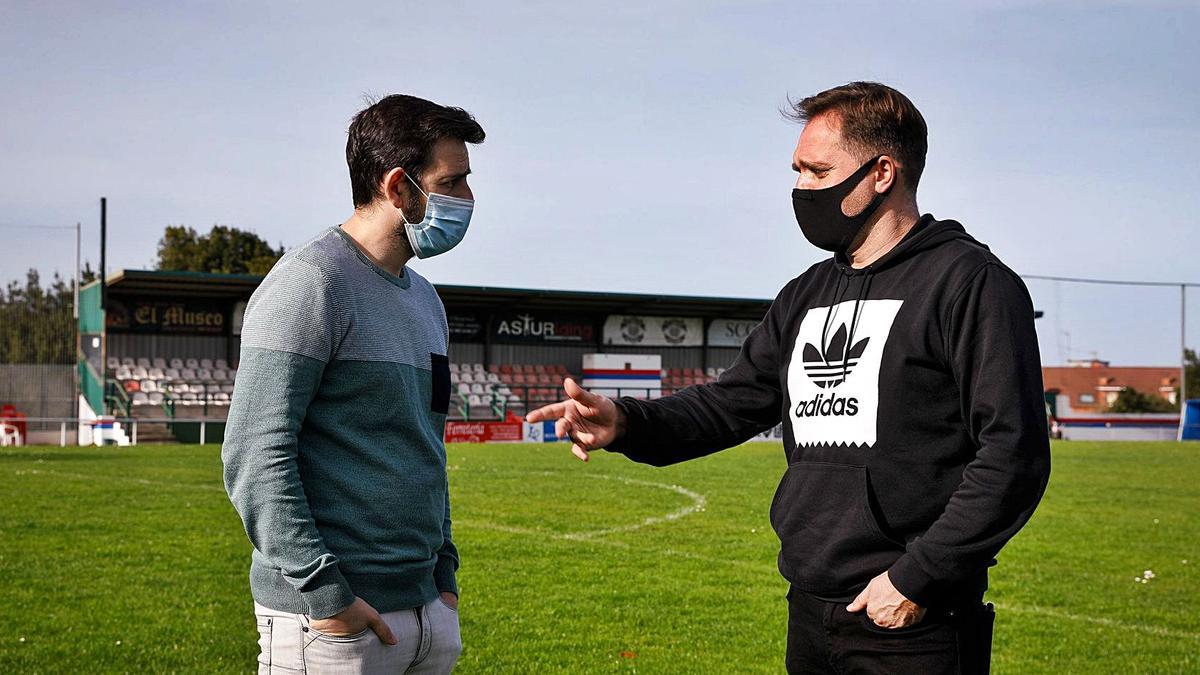 On the left, Pablo Busto, coach of Ceares, talks with Miguel Martín, coach of Industrial, in La Cruz. | Juan Plaza
It will not have the essence of previous occasions, but neighborhood football takes this midday Gijón. Ceares and Gijón Industrial resume one of the most popular duels in the city (La Cruz, 12.30 pm) with the illusion of giving joy to the fans that they will not be able to enjoy in the countryside due to the pandemic. This season's squads invite us to renew our ambition this campaign for a duel in which the weavers arrive after adding four points in the first two days, placing themselves at the top of the table, and the factories with a valuable draw in their visit to the powerful Avilés Industrial in a tough start that took him the first day to receive Llanera (1-3).
Ceares and Industrial are more than two clubs in the same city. Both have gone hand in hand in recent years in different initiatives, the last being that of their joint position so that football in the Third Division stops. They shared their views on the importance of minimizing the risk of contagion and also the economic losses that have endangered, especially, the viability of the most modest teams. The ninety minutes in La Cruz will serve this afternoon to alleviate concerns and focus eyes on the ball in a match in which both teams will register absences.
The team led by Pablo Busto will not be able to count on the injured David Blanco and Pelayo Muñiz, while in the factory side the midfield is especially weakened. Hugo will miss the derby due to suspension, while Borja and Bango will not be under Miguel Martín's orders either, as they do not recover from their respective injuries. Another illustrious name will be lacking in Gijón Industrial, that of José Ramón García, el "Chato", a delegate from the team that was expelled last day. The meeting can be followed live through the broadcast on YouTube offered by the Tododeporte Asturias channel.